We find potency and purity in the confines of an organic/non-GMO foundation. We're soil science nerds, and we believe premium product comes from the soil up.
Account
• Drinkable (steeped as tea, jar comes with three tea bags)
Subscribe to get special offers and exclusive content.
SIGN UP FOR OFFERS, NEWS & MORE
Sun grown using organic methods, our loose leaf flowers can be enjoyed several ways:
In order to end up with a 99% CBD crystal or product, several layers of refinement are required. These processes remove the terpenes, flavonoids and other compounds that assist CBD in working with your body to relieve ailments. Think of this in terms of processed vs. whole foods. Most of us now understand that a fruit or vegetable in its whole, natural form provides more health benefits and nutrients than refined, processed fruit and vegetable products.
Whole Flower Fluid is the entire, raw flower of the plant that is liquified. This is why it can be dissolved into water, used as a topical, taken directly under the tongue, or mixed with a liquid such as juice for those that do not like the taste.
Whole Flower CBD vs. CBD Isolate
CBD isolate seems to be everywhere in the USA these days – sold alone as crystals, added into everything from food and beverages to dog food and topical treatments. For those of you looking to use CBD as a true health supplement and for relief of ailments, it is very important to understand the difference between a CBD isolate and whole flower CBD.
Whole Flower Fluid is NOT "CBD Oil"
Here at the CBD expert, we learned first-hand the difference between a whole flower CBD product and what, at the time, was being called "whole plant CBD." The vast majority of our re-orders, when we started in 2014, was for the Whole Flower CBD products, NOT the products made from industrial hemp stalks that did not contain the other molecules necessary for the entourage effect.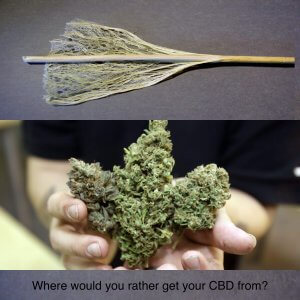 With the proliferation of CBD isolate products, we recently wrote a blog about the results between CBD-only products versus products made from whole flower CBD. It's important information for every consumer primarily concerned with medicinal benefits to understand. For example, "pure" CBD as being marketed by merchants who sell CBD isolate is not the most desirable type of supplement for medicinal value. As a metaphor, would it be healthier to eat an orange or to chemically extract the vitamin C from an orange and consume it on its own, with none of the other healing properties available in the orange?
The extraction process of whole flower CBD is significantly different than the way other extraction methods are done. Rather than isolate the many components of the plant in order to extract the ones desired for use in making tinctures or other products, whole flower extraction is designed to keep all of the plant components together and intact. This allows for a much gentler handling of the plant from harvest to final product.
The Entourage Effect
And the vast majority of our re-orders were coming from the whole flower products.
Whole Flower CBD™ Extraction Process
A 2015 study done in Israel which compared whole flower CBD to isolated CBD found that whole plant CBD-rich cannabis "is superior over [synthetic] CBD for the treatment of inflammatory conditions."