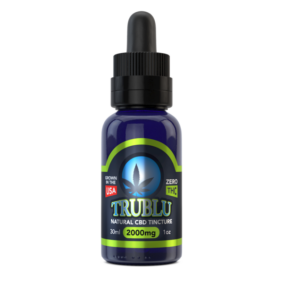 Blue Moon Hemp's mission is to destigmatize hemp and deliver accessible, affordable, high-quality hemp products to everyone. It offers a wide range of CBD products including e-liquids, shatter, salves, gummies, and even pet-friendly tinctures made from Kentucky-grown hemp crops.
When it comes to potency variations, TruBlu is marked highly here. One area it could improve in is to offer full-spectrum CBD extract options for those looking to benefit from the entourage effect.
The Tru Blue CBD tinctures by Blue Moon Hemp come in four potencies from 500 mg all the way up to 3000 mg. You also have the option between 3 different flavors for each. Blue Moon Hemp makes all of its products using high-grade organically-grown hemp.
The company Florida-based, and you can find its products sold online and in select stores across Canada and the United States.
Key Features & Benefits
By the end of this article, you'll know how to read between the marketing jargon. Find out the features and safety information you need to know about this product and others so that you can make your next CBD purchase with confidence.
Tinctures are a popular product offering because they're easy to dose, offer long-lasting effects, and come in a variety of flavors.
4 / 5
Formulation/Ingredients 4/5
Blue Moon Hemp sources its industrial hemp crops from Kentucky. It claims its hemp is non-GMO and organic. However, it's lacking USDA certifications and lab tests to back these claims.
When it comes to our shopping experience with the brand, we're not impressed. Every customer service interaction has been unpleasant from unanswered e-mails to rude customer service agents on the ZenDesk live chat on the website.
For relief, For relaxation, For fun, For anxiety
Ingredients:
Storage: Store in a cool dry place away from excess heat, light and humidity to maintain quality.
Suggested use:
CBD can be consumed in a variety of ways, from jellies to creams. However, CBD in oil droplets is one of the most popular and effective ways to consume CBD. CBD oil is often the preferred method of consumption for those using CBD for long-term recovery. Consuming CBD oil can take about twenty minutes to experience the full effect. However, we highly recommend taking CBD oil sublingually to help speed up the process.