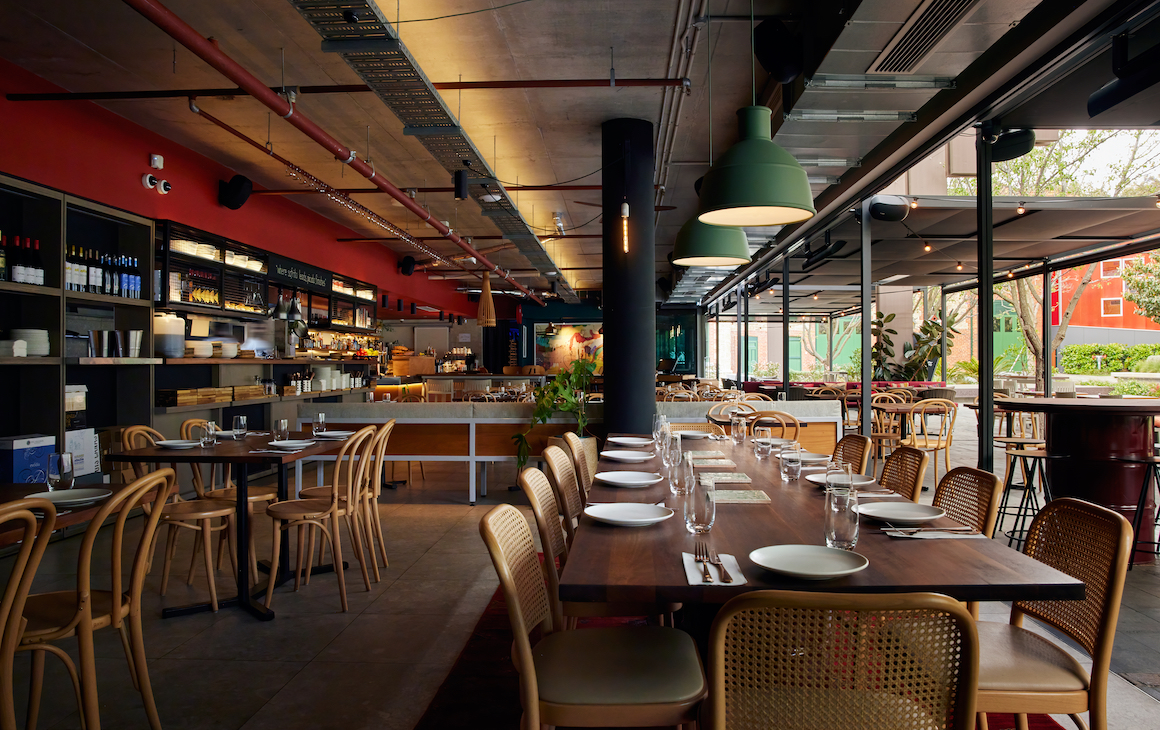 Step inside and you'll be greeted by colourful Mediterranean-style interiors and breezy floor-to-ceiling windows designed to stay open throughout summer. It's got a casual, welcoming vibe that'll instantly put you in holiday mode, with clear Spanish influences throughout and uninterrupted views over the lush greens of Hibernian Place. It's also worth noting, there's plenty of room for dancing once that third sangria hits.
Expect plenty of authentic, fresh Spanish dishes that'll transport you straight to Barcelona, from aperitivos like Southwest Spanish green olives, salt cod fritters and crispy three-cheese croquettes through to iconic tapas that you'll wish you had all to yourself—we're talking pan-fried goats cheese with mojo verde and honeycomb, fried calamari with lemon and burnt onion aioli, mussels escabeche with patatas fritas and veal and pork albondigas with spinach and nut picada. Hungry yet?
No Spanish meal is complete without some cheeky drinks and thankfully you'll have plenty to work through here. Whether you're chasing a European vino or something closer to home, or prefer to sip on a Spanish-inspired cocktail or two, there's plenty of choices. If you get stuck, you can always rely on the sangria.
Serving a unique combination of modern Asian and western-style tapas, Binchotan Grill & Tapas Perth is a must-visit restaurant for lovers of creative Asian fusion cuisine. Located on Hay Street in the Perth CBD, the space itself is stylish and modern with wooden furnishings, an outdoor dining area and a relaxed ambience. From the menu, you can expect to find tapas dishes such as kingfish sashimi with hazelnut puree and jalapenos; octopus with celeriac and katsu sando with pork and katsu gravy. You'll also find larger dishes like kimchi risotto topped with a poached egg; succulent steaks and duck served with a blueberry, shallot and cauliflower mousse. A Perth favourite for good reason, be sure to book ahead at Binchotan Grill & Tapas to secure your spot!
Unfortunately, this restaurant is not on the OpenTable reservation network.
Not available on OpenTable