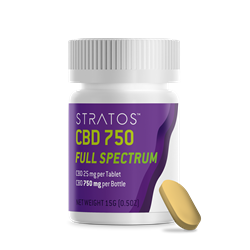 With a combined 80 years of pharmaceutical knowledge and business experience, Stratos founders were previously formulating, developing and validating highly scheduled DEA and FDA regulated medications. In 2014, they translated that experience into the cannabis space. After positive feedback and growing demand for its existing products with CBD and THC, Stratos created a standalone CBD full spectrum and isolate hemp oil product line.
Stratos CBD Full Spectrum Hemp Oil tablets are also available in bottles of 30 and doses of 10mg for $32 and 25mg for $64. Stratos CBD Isolate from Hemp Oil tablets are available in bottles of 30 and doses of 10mg for $34 and 25mg for $68. Stratos CBD products can be found online at http://www.stratoscbd.com and at select retail locations.
Building upon five years of success creating cannabis-infused products, Stratos expands to offer CBD Full Spectrum and CBD Isolate Hemp Oil tablets with shipping throughout the US
"With interest and demand continuing to grow around CBD, we are proud to offer an option that people can trust," explains Kate Heckman, VP Branding and Marketing. "Our manufacturing process is certified by the Colorado Department of Public Health and Environment, we source pharmaceutical-grade ingredients for our excipients and Colorado grown hemp oil, and can offer Certificate of Analysis results for each batch. We want customers to know where their CBD is coming from and want to ensure they are receiving products which are safe and exactly what they expect."
PUEBLO, Colo. (PRWEB) February 06, 2019
Full spectrum hemp oil is extracted from the entire cannabis plant using a carbon dioxide extraction method, offering the full-plant potential by extracting CBD, phytocannabinoids, fatty acids, flavonoids, and trace amounts of THC. The THC content always falls below 0.3% by volume to comply with the Farm Bill. CBD isolate from hemp oil distills the full spectrum extraction and strips out all other properties except CBD. All Stratos CBD products are tested for pesticides, heavy metals, potency, and residual solvents to ensure safety and quality.
STRATOS immediate release tablets offer a standardized pill form that provides a rapid onset of effects, as well as accurate consistent results.
The bioavailability of tablets is greater than that of cannabis-infused food items. Tablet technology ensures that more of the dose you ingest is absorbed in the body. The major advantage of cannabis tablets is that they are much more powerful and will last much longer than traditionally smoked or vaped cannabis. With cannabis tablets, you can get all the benefits of typical medical marijuana use without the side effects of smoking. Stratos tablets are also more portable, thus making them much more discreet than the traditional method of combusting cannabis. These pills are a safer and arguably better way to get your THC and CBD dose. Especially good for sleep, relaxing, and energy.
Available at Kind Love Retail Stores in different sizes and ratios:
100/500 mg THC tablets. CBD/THC ratios : 25:1, 15:1, 2:1, and 1:1.