Quicksilver Scientific Nanoemulsified Hemp Extract was tested for cannabinoid uptake by a third party in an independent study. The results of this test compared it to a leading pharma brand. With only half the dose, Quicksilver experienced absorption rates three times as great as the full dose of the other product.
CBD Hemp extract can assist the body's own endocannabinoid system to restore balance in brain function, gut health, immunity, and a healthy inflammatory response.
Ingredients: Broad Spectrum Hemp Extract, water, glycerin, ethanol, vitamin E (as tocofersolan and natural mixed tocopherols), phospholipids (from purified sunflower seed lecithin), natural citrus oils and natural flavoring.
Quicksilver's Delivery Systems™
on antioxidant genes, increasing our resilience in the face of environmental stressors. Quicksilver Scientific nanoemulsified Hemp Extract is available in two great formulas:
Quicksilver Scientific nanoemulsified Hemp Extract is available in two great formulas:
Product Description
Quicksilver Scientific Colorado Hemp Oil uses the tiniest liposomes for increased stability, absorption and speed. So many products out there use low grades of phospholipids that do not deliver compounds as effectively because they break down too easily. Their vesicles are so small that they begin absorption immediately upon consumption, from the time it enters your mouth.
For Serving Size, Suggested Use and CoA click here.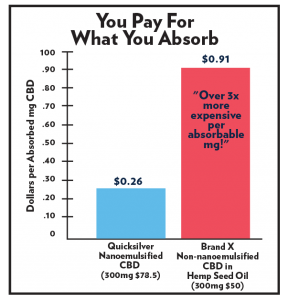 Full Spectrum Hemp Extract is one of the Quicksilver supplements made to bring you the best & most bioavailable in CBD cannabinoid absorption. May provide nutritional support for immune, pain, and stress response, cardiovascular health, and more!
Description
Note: Best used within 60 days of opening.
Understanding Cannabinoid Receptors
Cannabinoid receptors fall into two categories conveniently named cannabinoid receptor type 1 (CB1) and cannabinoid receptor type 2 (CB2). CB1 are thought to be one of the most widely expressed G protein-coupled receptors in the brain. They play an important role in GABA and other neurotransmissions, and may therefore have an impact on stress and anxiety response and other aspects of cognitive function. They may also be supportive of pain response, cardiovascular health, and gastrointestinal function.