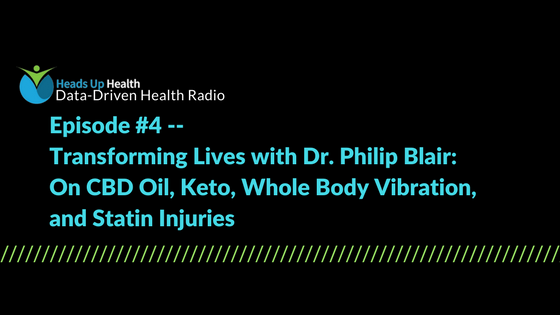 All of these amazing products are integrated with Heads Up Health.
Among the many other hats the awesome Dr. Blair wears, he is also an advisor for Elixinol, as well as the Medical Director and Vice President of Pro Health Advisor, providing innovative nutritional and disease management services. His program believes in "empowering individual patients to make lifestyle changes and coaching them through the difficult transitions until they realize success…and maintain their positive outcomes for life."
Use our discount code — 10off1079 — and get 10% off on your purchase of Elixinol!
Learn more about Keto-Mojo, a highly accurate and affordable device for testing blood sugar and blood ketones. Check it out at HeadsUpHealth.com/Ketomojo .
About Heads Up Health
In this episode, we chat with Dr. Philip Blair, a board-certified family practitioner and a retired military officer from West Point who does many things to help people transform their lives, including education about CBD oil, low-carb and ketogenic diet approaches, statin injuries, and disease management. He also provides consultations regarding cannabidiol (CBD) from industrial hemp.
This podcast is brought to you by Heads Up Health, a web app designed to help you centrally track all of your vital health data. Instantly synchronize your medical records, connect your favorite health devices and apps and use your data to optimize your health!
Thank you to our partners!
In this episode, you'll learn:
Click on the button below to start your free 30-day trial now!
Heads Up Health is a website designed to empower individuals who want to take a self-directed approach to managing their health. Instantly centralize your medical records, connect your favorite devices and apps (e.g., Oura, MyFitnessPal, Keto-Mojo, FitBit, Apple Health, MyMacros+, Withings and many more) and use your data to optimize your health.
I have one lady who report to me she's using it for a dry socket after having a tooth removal and she's getting great results for from using it and just really pleased with the progress.
And you're using a fairly low concentration, but it has it's got better bio availability and better absorption. So you get good penetration for that they've the election, all companies done something else with the life of some more variety. It's in a citrus twist. And one milligram of that is the equivalent of five or even seven milligrams of a tincture. So very, very well absorbed. I like to have people hold it in their mouth, if they're going to take it orally told it in their mouth for at least a minute because of the amazing absorption that can occur in the mucous membranes and you can feel the effects very very rapidly with them.
Philip Blair, M.D.
Well, you know, we live in times when some crazy stuff can happen politically, I think our listeners need to be mindful of safeguarding the rights to this medicine and, and doing what they can to make sure that everybody's got access. And you've mentioned so many conditions. I'm wondering about if you've done any work with veterans and with PTSD. And if CBD helps with that.
Transcript
Philip Blair, M.D.
Philip Blair, M.D.
Sure. And there were many decades of sort of government sponsored propaganda about the evils of cannabis. So there's a lot of work to overcome that kind of stigma. We see it in the states you know, it seems almost every week or there's another state that has made medicinal cannabis available. And again, as you say, CBD is available in and legal in every state as far as we know, until someone decides to prosecute against it, but the changes legislatively and at the ballot box are going to take an effect in your doctor's office eventually, right?
It seems like much of the medical establishment still has not even heard of cannabidiol (CBD) yet. Meanwhile, Philip Blair, M.D., a retired Army Colonel with 29 years of service, has become a strong advocate of this plant-based medicine.
Just thinking back to the first part of our conversation where you talked about homeostasis, and just because we have this endocannabinoid system that's hooked into all of our other systems. And it's related to appetite and sleep and mood. And all these things, I guess, is the mechanism of how this works, it's, it's going to bring you back to balance.