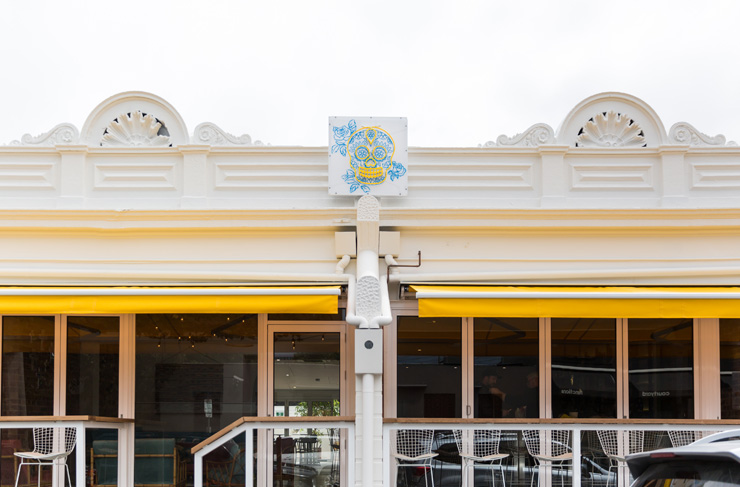 This fusion of food truck and fine dining is one of the biggest highlights of the St Kilda food scene. With a menu packed with juicy authentic dishes like chipotle tamarind pork ribs, spanner crab and corn and potato and chorizo quesadillas, Radio Mexico is everything you didn't know you needed in a modern Mexican restaurant. A special mention also goes to the carnitas, which are bite-sized tacos with crispy cheese crust .
A seriously happening little spot on Brunswick Street in Fitzroy, Little Hop's red shopfront is always overflowing with eager taco enthusiasts. Its narrow dimly lit space with candle lighting will often result in you being elbow to elbow with other diners as you dig into their banging fish taco with a cocktail in hand. They also have a smashing range of craft beers on tap and in tinnies.
Mamasita fans rejoice because they have a SECOND VENUE. Hotel Jesus is the Collingwood-based little brother of the CBD's Mexican matriarch. Smack bang in the middle of Smith Street, this tostaderia is renowned for its pork and pineapple tortillas and seafood-stuffed tacos, but also its huge range of whistle-wetters, including tequila, mezcal, cocktails and sangria on tap.
ST KILDA
Bodega Underground is brought to you by the folks who got their hospitality experience at Hawker Hall and Royal Saxon, so we can guarantee they know what they're doing. Tacos and booze are the ultimate combo for any day of the week, so you can enjoy Mexico's best (and booziest) culture in Bodega's cool underground venue. Plus, you can't beat their 3 am tacos.
Still one of our favourite openings of 2017. South Of The Wall stole our hearts with their endless margarita menu (TEN different margaritas, baby) and their Donald Trump mural in the sunny courtyard outback. A cracking venue for work functions, after dark tequila shots and lazy Saturday arvos. The decor has a vaguely Tikki kinda feel. Weird, but it totally works. Pro tip: go the kingfish ceviche.
Serving up some of the most delicious and pocket-friendly Mexican eats around, Village Cantina in Yarraville is a top contender for some of Melbourne's best Mexican eats. With plenty of deals, including cheap tacos and dinner combos, you'll want to hit up this colourful little eatery stat.
CARLTON
There's now a reason to head to Brunswick that isn't cheap custom-fitted jeans. and that's $5 tacos. With seven different taco fillings, including lamb, chicken, zucchini and green beans, potato and Jalapeño-infused eggs, all at $5 a pop, you'll never feel so full having spent so little than at Los Hermanos. (You can then spend all that money you saved on tequila).
Nestled on Gertrude Street is Trippy Taco, Melbourne's entirely vegetarian Mexican restaurant. Open for a late breakfast and well into the evening, Trippy is the hotspot for craft beer-swilling hipsters, but in no way should that deter you. Get your butt into that cute space and order a sangria jug, teamed with a big plate of nachos and a burrito and topped all off with some sick beats, then tell me you don't love it.
Remember when Mexican food was a box of hard-shelled tacos, a block of cheddar and a packet of spice mix?
We've moved on from those days. Not only are Melbourne's next-generation cantinas importing the obscure chillies, types of corn and other ingredients required to make authentic Mexican food, they have the drinks to match. So do it like the Mexicans do: order a few rounds of tacos or tostadas, and match with a michelada, tequila or mezcal.