ALL PURE MANA CBD
PRODUCTS ARE:
CERTIFIED THC FREE
& NON-PSYCHOACTIVE
U.S.A.
GROWN, MADE, TESTED,
& MANUFACTURED
100% ORGANICALLY
GROWN HEMP
subscribe for specials
3RD PARTY LAB-TESTED
IN THE U.S.A.
To give you the best absorption so you get the fastest, longest-lating, most powerful results.
PUREST, SAFEST
EXTRACTION
PROCESS
WHY DOES PURE MANA USE NANO-AMPLIFIED CBD?
We're proud to offer you the purest, highest quality, Nano-amplified CBD products on the market!
PUREST, SAFEST
EXTRACTION
PROCESS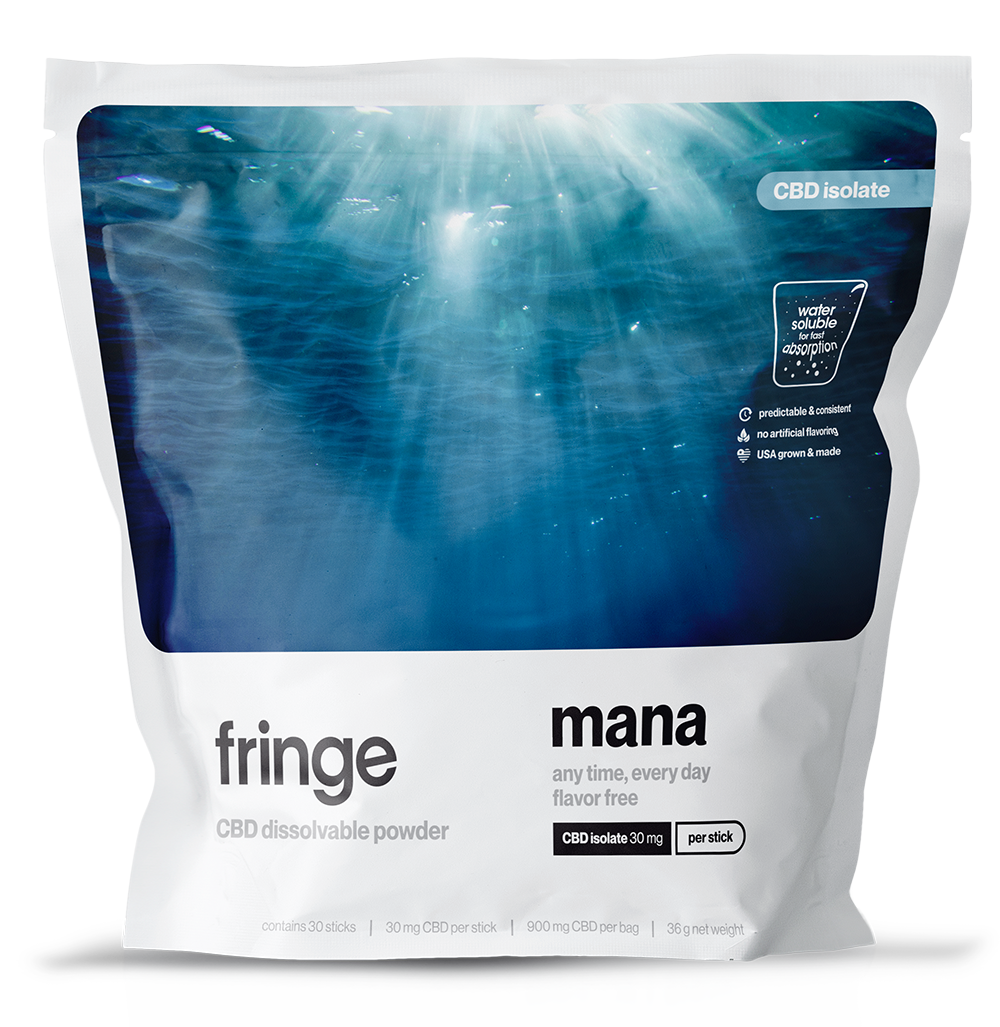 Change can be immediate or gradual and there are many factors that can affect how you are feeling or sleeping.
Scan the QR Code on your packaging to view the certificate of analysis of your batch.
Fringe healthcare professionals have partnered with a team of food scientists to improve the experience, reliability, and effectiveness of using CBD to support our overall health.
For support with stress, mood, focus, recovery, and general health take Fringe Mana during the day.
How Do I Get Started With CBD?
We are 100% dedicated to ensuring quality in our products. Fringe mana is originally farmed, USA grown, non-GMO Hemp. It is tested for potency, purity, heavy metals, microbials, residual solvents, and pesticides at three stages in our production.
How can it be that one molecule can supposedly help with so many aspects of human health? The answer to that question is both compelling and complex. The complexity of CBD's physiological effects increases exponentially when you consider that CBD has more than 65 molecular targets in the body.
CBD is said to exhibit "promiscuous pharmacological activity" because it affects such a wide range of receptor targets, which may have a profound effect on our overall health. Everyone experiences results from CBD differently, so check out our advice on how to get started on your personal journey.
Mana carries meaning across many cultures – the embodiment of the power of nature, a spiritual life force. The beauty of it is that anyone or anything can possess it – it's with us, in us, around us.
night time
Solubility refers to a product's ability to dissolve in water. Oil (also known as lipid or fat) soluble CBD products are oily, and do not dissolve in water. Water soluble products are fine powders and do dissolve in water. This difference affects bioavailability, with water soluble products being more bioavailable than oil soluble products. Water soluble products also have a more consistent bioavailability because they are less influenced by factors like taking them with meals.
We hope that Fringe Mana helps you to feel connected, clear, and calm.