How does Georgia's law compare to laws in other states which have adopted medical marijuana?
How much does the card cost? How do I pay for it?
Can I now sell medical marijuana?
The card will be valid for two years from the date it is issued. The expiration date will be printed on the front of the card. After that time, you will need to again consult with your physician and request that they update and confirm your information into the registry. Please plan to allow 15 business days to process your information, print your card and have it ready for pick-up from the closest of the 20 Public Health Offices approved to distribute them to the address you list as your residence in the registry.
You will be notified when your card has been printed. A representative from DPH's Office of Vital Records will contact you to establish which of 20 Public Health Offices across the state is most convenient for you to pick up your card. A representative from the Public Health Office selected will notify you when your card is available for pick-up.
The law lists the following conditions and diseases which qualify for the Low THC Oil Registry:
What happens if I lose my card?
There are three categories of persons who may apply for the card: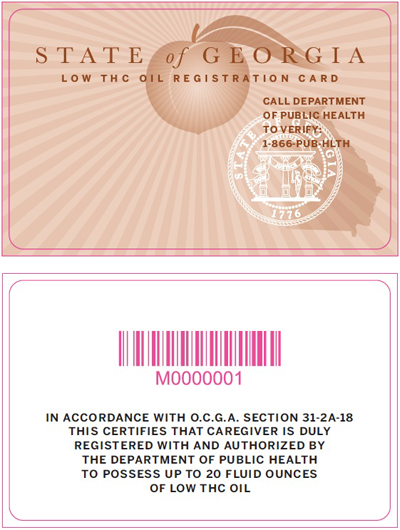 Georgia's new medical marijuana law allows certain qualified persons to legally possess up to 20 fluid ounces of "low THC oil," which is derived from the marijuana plant. It authorizes the Georgia Department of Public Health to issue a "Georgia Low THC Oil Registry Card" to qualified persons, which will prove that they are authorized to have the oil in their possession.
To be considered valid, the back of the card should be white and contain a bar code, number and the following language: "IN ACCORDANCE WITH O.C.G.A. SECTION 31-2A-18 THIS CERTIFIES THAT CAREGIVER IS DULY REGISTERED WITH AND AUTHORIZED BY THE DEPARTMENT OF PUBLIC HEALTH TO POSSESS UP TO 20 FLUID OUNCES OF LOW THC OIL"
Does the law authorize the sale of low THC oil in Georgia?