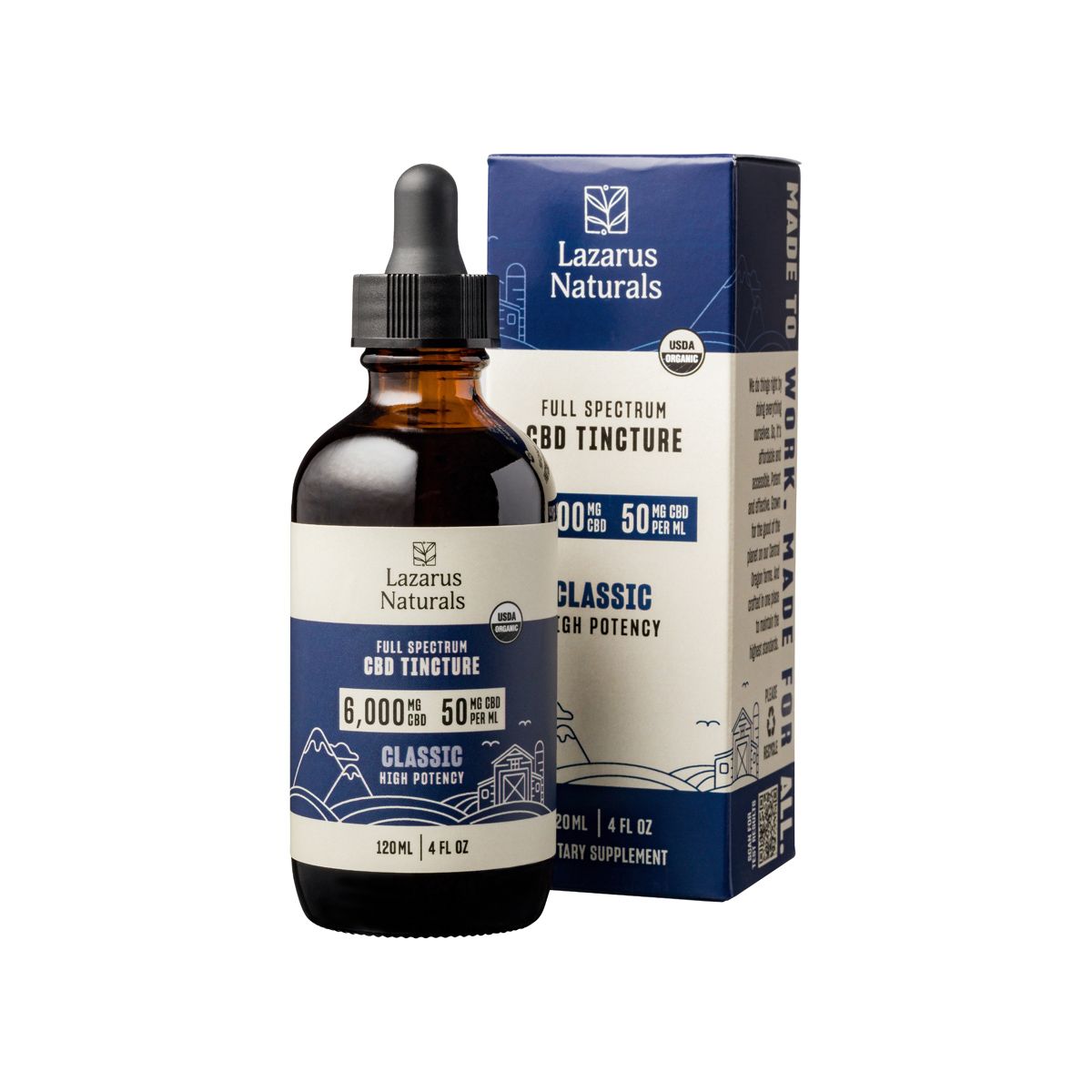 Organic Hempseed Oil, Fractionated Coconut Oil, Hemp Extract
CONTAINS: Tree Nuts (Coconut)
In order to maintain purity and quality, our Classic tinctures are unflavored and additive free. They are made using all-natural ingredients, just the way nature intended. We also offer a selection of infused tinctures that are flavored naturally with extracts and terpenes.
Description
Legal in all 50 States and in over 40 countries.
It comes with a graduated dropper to ensure an accurate serving size.
Suggested Use:
Take 1ml (50mg) as needed, or as directed by your healthcare provider. May take up to 2 hours for full effect. Serving may vary greatly by individual. Consult your doctor before use if you have been advised against eating grapefruit.
Ingredients: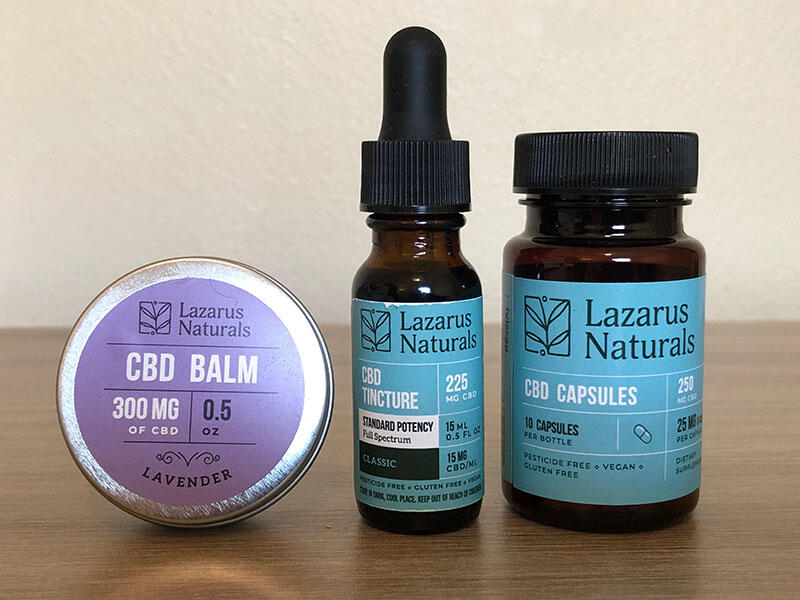 All Lazarus Naturals products are tested extensively in-house and by a third party. Each shipment of hemp undergoes an initial test for heavy metals, pesticides, and potency. After the extraction is completed, the same test is done to test for residual solvents (in this case ethanol). They use cane ethanol as a solvent for extraction, this is the same type that you would find in alcoholic drinks and therefore is safe for consumption. When producing CBD isolate, a final test for potency and residual solvents is performed. All final batches are tested again for potency and undergoes a quality analysis by a third-party laboratory. Lazarus Naturals publishes these third-party test results on their product pages, and updates them with every new batch. Looking at these results, the CBD content for the tincture from batch BC33(A) that we received contains 15.7 mg CBD per serving, 0.7 mg more than stated on the label. The results for heavy metals and pesticides were all below the limit of quantitation.
Lazarus Naturals is a board member of the US Hemp Farmers Alliance and are active in assessing the ideal growing conditions for the hemp plant. At the moment, hemp cannot be certified organic due to the way the regulations are set up by the USDA and FDA. These regulations are currently being modified due to changes initiated by the 2018 Farm Bill that legalized hemp in all 50 states. The USDA launched a pilot program for the organic certification of hemp. One of the things to be regulated will be the limits for toxins present in the soil. Because there is no standard currently, Lazarus Naturals is following the American Herbal Pharmacopoeia (AHP) monograph on cannabis which sets a higher standard than that implemented by the USDA. Lazarus Naturals have implemented the necessary processes so that they will be one of the first to be fully organic certified by 2022.
Pricing report – Lazarus Naturals was listed in «А» price rank (Bargain grade) on our 2021 pricing report. In this report, we checked the prices of the 137 brands in the industry and compared for each category the cheapest and most expensive products.
Manufacturing Process
Lazarus Naturals gives open access to their lab results, and it was this transparency that enabled them to clear their name when NBC reportedly found high lead levels in their products. Because the products NBC tested did not have corresponding batch numbers, it was clear that these were counterfeit products. Of course, now the issue of imitation products arises. Since they are so well-known and popular, they have to spend time assisting merchants with removing counterfeit products from unapproved marketplaces. Customers should make sure that they buy only from approved marketplaces and check that the batch number on their products correspond with those on Lazarus Natural's website.
This, to me, signifies a company that has nothing to hide and has an open door policy. It is easy to contact them either through their contact form, by email or telephone. They are responsive and seem eager to help.
Marike has a keen interest in everything CBD. After starting her own journey managing chronic pain with CBD, she realized just how little objective advice there is out there. Today she advises fellow entrepreneurs who are getting into the private label CBD industry on what consumers value most, and what they need to do to provide the best possible product they can.
They have an excellent reputation for high-potency, affordable CBD manufactured in the United States, Oregon specifically. Their approach to CBD accessibility is well-known and therefore many clients seem to take advantage of their Assistance Program. They offer both standard and high potency CBD products, catering to a larger audience that uses CBD for different applications. You also have a choice between full-spectrum and pure CBD isolate hemp extracts.
Leafreport's market reports score
They devote considerable energy to informing their customers by maintaining an extensive and informative blog that is updated with news and facts about CBD.
Despite CO₂ extraction being a more popular extraction method, Lazarus Naturals use kosher ethanol in their extraction process, a cheaper process that,when not performed perfectly, leaves some traces of solvent in your CBD extract. This might put some people off, considering that this method often produces CBD extract that is not as clean. However, Lazarus Naturals publishes their test results almost religiously, and are very transparent about the results. Residual solvent testing detects the presence of any residual solvents and impurities that would make the extract dangerous for consumption. Since Lazarus Naturals goes to great lengths to clean their extract of all trace amounts of solvents, we cannot fault them for using this extraction method. They seem to be one of the few companies that are using this method successfully to produce clean CBD. Because ethanol-extraction is usually cheaper, they are also able to offer their products at a very reasonable price point.