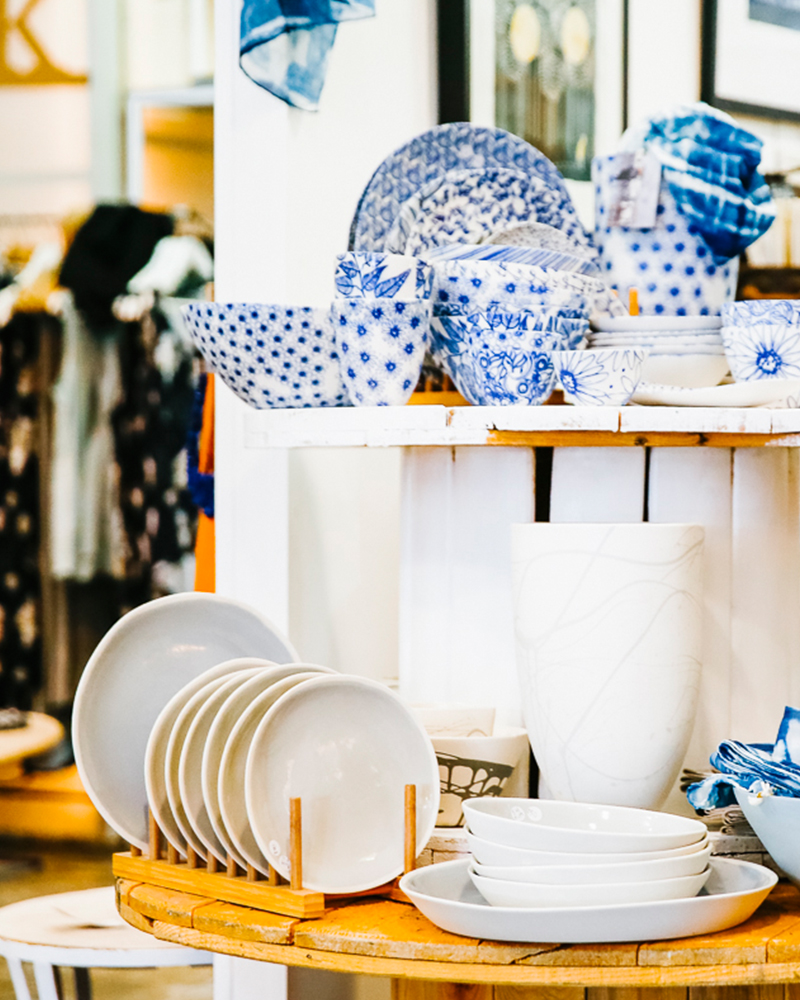 For finishing touches and some seriously good knick-knacks, Merchants of Swanbourne is a bit of a treat. Make your house a home with their diffusers, candles, platters, cheese knives, ceramics, kitchenware, rugs and throws. And did we mention their gorgeous pot plants?
It's not possible to walk passed District without poking your head in, it's that beautiful. Stocking the kind of furniture and homewares you'll have to save up for, District is a hive of incredible international brands and pieces you haven't seen anywhere else. If you're looking for wow-factor, you'll find it here.
Some shops are just satisfying to browse through. Granite Lane is one of them. The place is so aesthetically pleasing it's scary. With a carefully selected range of products that showcase designers from across the globe, Granite Lane has everything you need to achieve ultimate dream home status. Think beautiful contemporary furniture, cosy bed linen, statement cushions, ceramic kitchenware and every other home accessory your heart could desire. The staff are super helpful too; they'll tell you the story of all their pieces and help you make choices that reflect your uniqueness.
Another one for all your bits and pieces, Ware is a long-time favourite of locals tucked up the back of Astor Lane, stocking unique, eclectic gifts and homewares. Expect kitschy pot plants, kitchenware and ceramics, funky vases, jugs and glassware sets and funky ottomans.
Claremont, Osborne Park, Fremantle, Highgate
Stocking a dreamy range of furniture and homewares carefully curated by designers and architects with an unhealthy love of coffee, Öopenspace will help you get rid of that money burning a hole in your wallet, fast. With a nod to simplistic Danish design and a whole lot of oak wood, brands on the showroom floor include Maiori, Ethnicraft, Won and Bentu.
If you really want to torture yourself—or if you actually have a home to fit out—Angove Street Collective is the place to do both. Housing Ambassador Home and Ambassador Life, the Collective will sort you out with gorgeous furniture, luxurious linens, handcrafted ceramics and everything in between. There's a contemporary feel, but homage is paid to retro designs: think cane chairs, upcycled coffee tables, and Californian desert prints. That's before even mentioning the crazy beautiful, environmentally sustainable, organic fibre rugs from Armadillo & Co, of which there's an excellent selection.
For an interesting mix of homewares and gift items like books and fresh flowers, Daisy & Rowe is hard to go by. For a little place, they've got everything from kitchenware and bathroom items to frames, prints, cushions and home accessories. Don't expect to deck out your whole place here, but do expect some fun finds and friendly service.
Angove Street Collective
Tucked into a little spot on Beaufort, La Luna packs a whole lot of amazing homewares for such a small shop. Think handcrafted ceramics, moody and romantic floral prints, macramé wall hangings and planters, gorgeous wool rugs and trendy velvet furnishings. You'll want to buy everything.
You know you're an adult when you consider browsing homewares shops a legitimate and highly enjoyable pastime. There's nothing like admiring gorgeous sets of ceramics or lightly stroking your hand over high-quality linen bedding to really get the senses going (and the cash flowing).
Unlike a hotel or small serviced apartment, there is a full residential kitchen. Which means there's no need to eat out each night because you have quality appliances, an electric cooktop, plenty of storage plus pots, pans and kitchenware.
Creature Comforts
The open plan layout accentuates the abundance of space. From the large entry, you come through to a residential kitchen overlooking the dining and lounge areas. Sliding doors lead out to the balcony, resulting in an abundance of natural light in the main living areas.
Connect
Large open plan living
Undercover alfresco balcony
Stereo
DVD Player