PartyWorld is, in fact, the best karaoke brand in Taiwan, and it's currently singing up a storm on the streets of Melbourne in 2021. Located in Melbourne Central with no less than 44 rooms, they've got a size and a song for everyone. There's even a team of chefs dishing up an array of Chinese classics to ensure your karaoke energies never waver and they'll deliver the meals to your private room—no intermissions needed.
Glam your evening up with a trip to Fitzroy's resident oriental diner and bar, Rice Queen. Not only is it packed with delicious Asian cuisine, they also have their very own karaoke room tucked away at the back of the venue. You can book the whole room out for you and nine of your closest friends for an hour, there's a minimum spend of $100, but between ten of you it's a breeze. Make sure you enquire ahead for this super exclusive room.
Strike Bowling in QV certainly packs a punch entertainment-wise thanks to its fully equipped bowling alleys and laser tag courses, but its biggest drawcard is by far the private karaoke room which holds up to 35 people—and all for a very affordable hourly rate. Browse their song catalogue online in advance so you can customise your playlist, show off your vocal chops and unleash your inner Mariah that's been in hiding throughout 2021.
Rice Queen
Jankara provides yet another public opportunity to bust some tunes thanks to its open layout. Not only does the venue have endless drinks on tap and a small stage to make you feel like an Australian idol, but Jankara has to have one of the thickest songbooks in the city. There's no classic hit that isn't in the system at this karaoke spot, and that's why it's one of the best karaoke bars in Melbourne as far as we're concerned. Live out your Cameron Diaz karaoke dreams in 2021 and hit the mic [baby] one more time.
So get your gang together, down some Dutch courage and get your butt on that stage. These are Melbourne's best karaoke bars in 2021.
Hot on the heels of the Melbourne karaoke scene is its newest player, Stars KTV Karaoke & Lounge. With no less than 31 ritzy rooms equipped with the latest in vocal technology, including huge TV screens, sound systems, laser lighting, and over 200,000 songs, this place is set on being the best karaoke bar in Melbourne for 2021 and beyond. Pick up some courage on arrival at their sparkling Star Bar before heading into your private room.
Stars KTV Karaoke & Lounge
KBOX Karaoke is a Melbourne classic and is renowned for its comprehensive collection of English, K-pop, J-pop, Thai, Indonesian and Malaysian hits. If it's international music you're after, then this is the best karaoke bar in Melbourne for you. Leave it to the ritzy overhanging disco balls to get you in the mood, plus their fully equipped, Dutch courage-packed bar for your more timid friends emerging out of the 2021 lockdown. Book a room for your next reunion, birthday, hens party or don't-need-no-reason-to-party night.
Next door to the much-loved Holey Moley in the Crown Entertainment Precinct you'll find Juke's, Melbourne's best psychedelic karaoke bar bringing the 70s vibes firmly into 2021. Each private room is fittingly retro, with plush couches, vintage microphones and colourful walls across the board. Step back in time and sign up for one of their sweet deals—on Manic Mondays you get free karaoke with a night-long happy hour, $10 pizzas and $5 fries. If that doesn't get your friends to the mic then we don't know what will.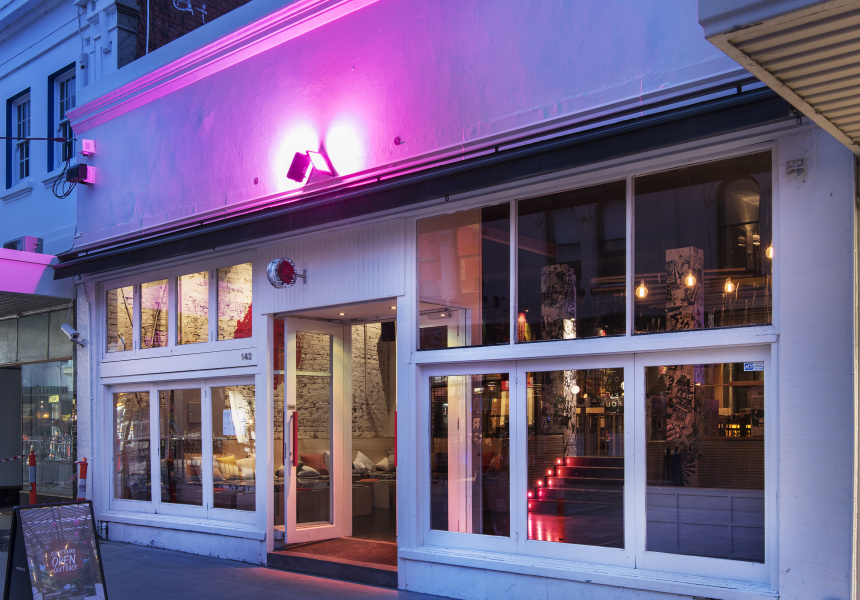 Holey Moley
Aside from Holey Moley's 27 pop-culture themed minigolf holes and colourful cocktails, there's a private karaoke room on the ground level pulling crowds too. There's enough room to bust a move when belting out your vocals, and a second mic helps recreate a Gaga-Cooper vibe. Head to the bar for a Sugar Caddy cocktail complete with lolly kebab, and order some stone-baked pizza for delivery. The room holds 24 people for a flat rate of $100 per hour (for up to three hours), which makes it a cost-effective option for large groups.
Kbox
Frequented by connoisseurs, Kbox is a hall-of-famer on the Melbourne karaoke circuit. Prices and room sizes vary – two hours in a singing pod that fits up to eight people costs $38 per person (with two drinks included), or for a flat-rate of $590 you can get two hours in a room that fits up to 22 people (and $400 worth of credit to spend at the bar). Beyond the entertainment, Kbox sells shooters by the half dozen, premixed jugs of spirits and mixers, and deep-fried, finger-friendly snacks.
Jankara
For open-mic karaoke à la My Best Friend's Wedding, head to Jankara on Russell Street. You're given a number with every one or two drinks purchased, depending on the day. Seize the moment when your ticket is called to jump on the small stage. There's a long list of Japanese beer, whisky and sake, along with a small menu of share plates to match the cuisine.
Heroes
At this four-level South-East-Asian-inspired bar and barbeque spot (from the team behind Fancy Hank's) you'll find smoking skewers served in private rooms with table service. You can book one of four rooms for $10 per person for two hours. Two rooms hold up to 12 singers, another holds 15, and one on the lowest level holds 25. You can book drink and food packages in advance, or start up a tab when you get there for wings, brisket and cocktails. Flick the service light to grab the bar staff's attention for service.
Whether you want to host a big party or an intimate gathering, line up an entire playlist of nu-metal anthems or keep it classic with Dolly Parton and Kenny Rogers duets, we've rounded up six of the best karaoke spots to drop the mic at.
Tokosan
The cocktail menu at this Prahran restaurant nods to Kill Bill – there's the Kill-Billini with bubbles and your choice of sorbet, and The Bride with vodka passionfruit, lime, apple and egg white. And the share-style menu, ¬which includes chilli edamame, temaki handrolls and gyoza dumplings, lends itself to bites between ballads. The killer karaoke room holds up to 35 people – you can book on the day for $50 per half hour, or book the whole room in advance for three hours with a minimum spend of $1000 (which includes drinks and canapés).
Plus, on the last Sunday of every month, there's "curry-oke" at the open-mic lounge on level two. From 6pm, $25 will nab you curry, rice and pickles; and another $20 will get you a cocktail on arrival plus two more drinks. The karaoke is free. But if you can't find a song to sing among the 200,000 tracks on offer, karaoke might not be for you.
Choose from Japanese canapés starting at $30 per person or a banquet menu priced at $65 per person.