Each Fab CBD product is made with whole-plant extracts, meaning their products contain full-spectrum CBD and other cannabinoids, as well as beneficial terpenes that lend to the entourage effect. Because their products are made with whole-plant extracts, they may contain trace amounts of THC below 0.3%.
Fab CBD offers CBD oil tinctures in a variety of different flavors available in three assorted potencies. Choose from citrus, mint, berry, vanilla, or natural flavor in 300mg, 600mg, or 1200mg strength in a 30ml bottle.
Aside from their wide array of CBD oil tinctures, Fab also carries a well-stocked supply of other CBD products.
Founded in 2017 by Josh Delaney, Fab CBD is a Milwaukee-based CBD company with a simple goal of helping people through creating the best possible products they can. With a team of 25 years of combined knowledge in the health, fitness, and supplement industry, the mission of Fab CBD is to forge a way for a new generation of individuals to embrace a preventative wellness lifestyle. They're self-described "obsessed" with making people feel great and perform at their highest levels.
Fab CBD oil is derived from organically-grown, non-GMO Colorado hemp and extracted using CO2 extraction methods. Third party lab testing for all of their products is performed by Pro Verde Laboratories, and lab test results for each batch of oil are available on Fab CBD's website.
Their CBD gummies are THC-free and contain 25mg of CBD each. As far as gummies go, Fab CBD has some of the "healthiest" you can find. They're non-GMO, vegan, made with organic cane sugar instead of corn syrup, and contain natural colors and flavors. Fab CBD also carries a topical CBD cream for targeted relief of muscle and joint pain, vape pens, and dog treats designed with man's best friend in mind. They also offer three non-CBD superfood powder blends created to support optimal health and designed to be mixed with juice or water.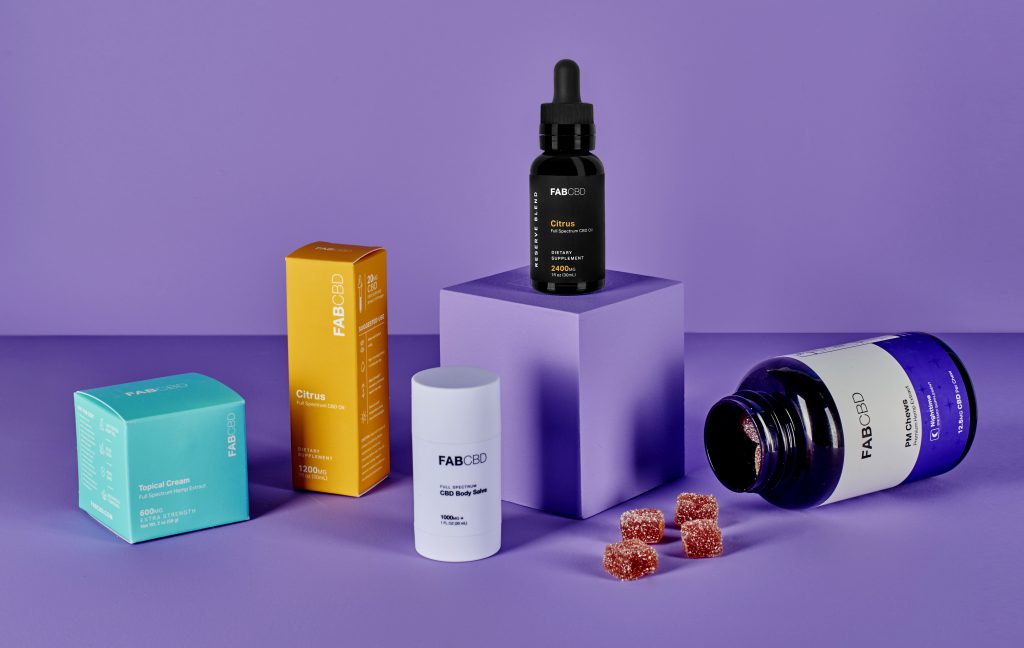 He's already working on his next big thing. His umbrella firm, SnackTime Capital, will launch Plant Goods and Whey Goods brands in the coming months. "The world's first clear whey protein," said the entrepreneur describing the market niche.
"I told my wife we can go back to Milwaukee and actually have an impact," he said. A warehouse was set up in New Berlin and an office was opened in St. Francis.
FABCBD products. Image from FABCBD.
He now has plenty of capital to fund the $7 million development.
Delaney said the firm finished 2019 with $5.5 million in sales. "In 2020, we more than doubled again," he said, noting sales grew to $11.3 million.
"I could see this being a new [everyday use product]," said Delaney in an interview. "Everyone is going to have a bottle of CBD whether they use it or not."
UPDATE: An earlier version of this article said Delaney would receive a board seat with High Tide. He will not be joining the High Tide board as a result of the acquisition.
The sale netted Delaney $12.56 million in cash and the remainder in stock in High Tide. The company is working to move to the NASDAQ stock exchange. Both Delaney and High Tide have options to trigger High Tide's acquisition of the remainder of FAB.
"I can come up with a product, have the product manufactured, set up a supply chain for that product and get on a laptop and sell millions of units," he said.
Though FAB CBD products contain little to zero THC, the company warns users they can still test positive to THC lab tests. This happens because CBD can sometimes metabolize in ways that can give a false positive.
Next, flavors are added to numb the earthy hemp taste and replace it with a more pleasant and acceptable taste. After this stage, the products are bottled, sealed, and shipped to the 200,000sqft Midwest facility of FAB CBD in Wisconsin.
After the ad campaign, Delaney reported that FAB's conversion rates, which are usually between 6%-8%, doubled. And this equals higher revenue.
Product Line
Fab CBD. 2020. Introducing FAB PETS, CBD Dog Treats In 3 Flavors!. [online] Available at: <https://fabcbd.com/blogs/educate/cbd-dog-treats-in-3-flavors/> [Accessed 28 August 2020].
Today, we'll be looking at how the FAB CBD brand has managed to grow into one of the key players making waves both online and among hemp consumers.
The company maintains an active blog where they talk about their products, including how they work.
How FAB CBD Makes Their Products
Also, during the quarantine period, FAB donated $10,000 to Make-A-Wish, twice its previous donation to the organization.
Some of the ways FAB CBD have used to amass a faithful following since its 2017 inception are: