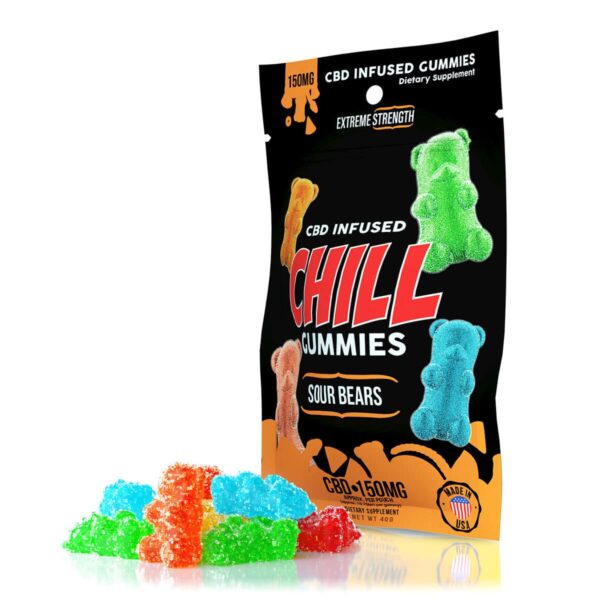 Good potency, nice flavor, downside I usually need more than 10mg so I have to take more than 1.
November 1, 2019
Additional information
Hemp derived cannabinoid extract, Corn Syrup (From Corn), Sugar, Water, Gelatin, Citric Acid, Natural and Artificial Flavors, Lactic Acid, Pectin (Derived From Fruits), Titanium Dioxide (Color), FD&C Yellow #5, FD&C Yellow #6
Green Roads Relax Bears are the best-tasting CBD Gummies on the market. Each adorable bear delivers 10mg of soothing hemp-derived cannabinoid extracts in a mouth-watering sweet n' sour gummy. Each bottle offers 30 gummies, giving you the ideal way to incorporate CBD into your daily wellness routine. Like all Green Roads products, Relax Bears are tested for quality by an independent laboratory. You can review the results of the test using a QR code on any package.
Related products
I was sad to find out that gummies take much more time to start producing the effect. I had to wait for almost an hour. I wasnt used to it as I was only on CBD drops before. Other than that, great product.
Can you use CBD for stress?
Green Roads CBD Edibles can be used to help promote a sense of calm and support the management of normal day-to-day stress. Greenroads CBD products may also be able to support focus and help maintain normal emotional balance. Green Roads CBD edibles are not designed to treat, cure, or diagnose any form of anxiety disorders, mental health conditions, or other medical ailments.
Contains 4 froggies With 25mg of CBD each!
Satisfying to chew!
Delicious sour taste
An easy on-the-go serving of CBD
25mg of CBD per Froggie
Delicious sweet coating for great texture & taste
An easy on-the-go serving of CBD
The CBD Froggies, Green Roads' flagship edible product, are an industry classic. These gummies snacks are the ideal on-the-go 25mg CBD snack for busy professionals, weekend warriors, and anyone else. Like all Green Roads products, Froggies are formulated using a proprietary recipe. They're made using top-quality ingredients tested for purity by Green Roads. Final batches are sent to independent labs for third-party testing.
Product Description
Advertising Disclosure: We may receive commissions when you click our links and make purchases. However, this does not impact our reviews and comparisons. We try our best to keep things fair and balanced, in order to help you make the best choice for you. Always consult with a doctor.
What is the edge of Green Roads' CBD Edibles than others on the market?
Green Roads edibles are a premium option from a brand that sets the gold standard for quality control in the industry. They use naturally occurring cannabidiol (CBD) and other natural compounds without any artificial ingredients or harmful chemical substances.
Does CBD promote relaxation?
Greenroads CBD edibles may promote relaxation and a calming effect. Green Roads CBD edibles can also be used for everyday situations that may cause feelings of unease. The benefits of CBD may be different for everyone.
50mg Relax Bears
Is There THC In Green Roads' CBD Products?
If the CBD product is broad-spectrum, it will have only non-detectable levels of THC (meaning the amount is so small it doesn't show up on a lab report). If the product is isolate, there will be no THC. If the product is full-spectrum, it will have less than 0.3% THC, the federally legal limit for industrial hemp plants.
10mg of CBD per Relax bear
Best-tasting gummies on the market
Mouthwatering sweet n' sour flavor
Super cute shape!