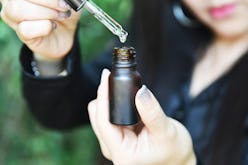 CBD won't fix all of your health problems, but there is evidence that you'll at least feel something, as Capano puts it. Ultimately, more research needs to be done before scientific conclusions about CBD's effectiveness can be drawn.
CBD stands for cannabidiol, and it's a compound that comes from cannabis plants. CBD is often derived from hemp, which doesn't have much tetrahydrocannabinol (THC), so CBD won't get you high, according to Phys.org.
Atkinson says there is some research showing that CBD can help with insomnia, but evidence is lacking for most of the other specific claims about it so far. However, there is some scientific backing for the benefits of CBD overall. Capano points out that you have something called an endocannabinoid system, which is made up of cell receptors throughout your central and peripheral nervous systems. Your body's endocannabinoid system affects your pain response, inflammation levels, sleep cycle, and more. When you take CBD, it increases anandamide, which is an endocannabinoid that makes you feel blissful, according to Capano. This could improve your mood and inhibit pain, she says.
While CBD is often marketed as the ultimate anxiety treatment, CBD companies avoid making specific claims so that they don't get in trouble with the U.S. Food & Drug Administration (FDA), which approves products for safety and effectiveness. So far, the FDA has approved just one CBD drug, called Epidiolex, to treat two rare forms of childhood epilepsy. It recently announced plans to begin considering regulations for other CBD products.
So Why Do People Take It?
If you've listened to the raving testimonials from people who love CBD, the non-psychoactive cannabis compound, you may wonder whether you'll immediately feel a difference the first time you take it. Those who use CBD claim it relieves anxiety, helps them sleep better, alleviates soreness, and leads to better overall physical health. But medical professionals say more research is needed before we actually know the effects of CBD.
You know how you might feel tipsy after drinking a glass of wine with a friend, while that friend feels just fine? The same principle applies here. Some people take CBD and find that they don't feel anything, while others say they feel relaxed right away. The effects of CBD are less dramatic than those of alcohol or marijuana, so you won't feel loopy or disoriented after taking it. In fact, you may not notice much at all.
Atkinson says CBD's bioavailability, or how much of it is actually absorbed into your circulatory system, depends on how you take it. CBD that you consume in food has a bioavailability of 5 percent, according to Atkinson. That means your body would only absorb 2.5 milligrams of CBD if you ate a brownie containing 50 milligrams of it, and it would take some time for you to feel anything.
Remind Me — What Exactly Is CBD?
The list of CBD's purported health benefits is pretty long, but people most commonly use CBD to treat chronic pain, inflammation, and anxiety, according to Project CBD, a nonprofit cannabis news source.
"It's subtle, but people usually feel something," Dr. Alex Capano, PhD, chief science officer of CBD brand Ananda Hemp, emphasizes. "They will feel relaxed but not intoxicated, like they've just gotten a massage."
"Since discovering the endocannabinoid system (ECS) in the body in the 1990s, CBD has been researched more extensively. The ECS is a central regulatory system restoring normal balance and homeostasis in a range of human physiologic systems throughout the body and brain and has cannabinoid receptors and chemicals in its function," explains Dr. Matharu-Daley.
It's important to point out that CBD is not regulated by the FDA and therefore dosages might not be accurate. It's also difficult to know what an appropriate dose is the first time you try a new product.
Generally speaking, CBD is considered a safe substance when applied topically or taken orally. There are, however, some potential side effects to keep in mind when using this substance, the majority of which are mild.
"If the CBD is from a reputable source and one that has been inspected by a third-party independent lab, the content of CBD is more reliable," notes Dr. Matharu-Daley. "The CBD should be organically grown, free of pesticides and heavy metals, and not sourced in food which can affect absorption. Generally, CBD is safe and side effects are few at low doses."
What Is Cannabidiol (CBD)?
There are several reasons why someone might want to use CBD. The substance can be found in a multitude of products ranging from pain-relieving creams to edible tinctures to skincare. Research is still underway, but over the last few decades scientists have become more aware of how CBD might be beneficial when applied either topically or ingested.
The most comment side effects of CBD include drowsiness, gastrointestinal issues, dry mouth, reduced appetite, nausea, and interaction with other medications. Those are outlined in detail below.
Also known as "cotton mouth," CBD can potentially cause your mouth and eyes to feel very dry. Though this side effect is more likely to occur with THC, it can happen with CBD as well.
Are There Any Benefits Associated With Using CBD?
Karen Cilli is a fact-checker for Verywell Mind. She has an extensive background in research, with 33 years of experience as a reference librarian and educator.
Ultimately, the primary reasons why people use CBD is because it tends to have calming, relaxing, pain-reducing effects. It has been used to alleviate joint pain and nerve pain, reduce anxiety and stress, treat insomnia, improve migraines, and address nausea.