Go to
Go to
Go to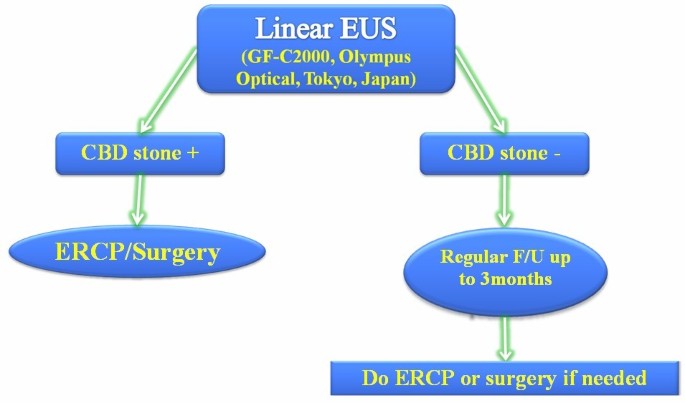 This is a prospective observational study. 30 patients (arbitrarily chosen) were recruited to determine the sensitivity, specificity, positive and negative predicted values of linear EUS for the diagnosis of occult bile duct stone, as well as, possible related adverse events.
Conclusion
MRCP is, theoretically, more objective in the diagnosis of biliary diseases than EUS or ERCP. However, patients with claustrophobic tendencies may obviate its use. In addition, MRCP requires sophisticated maintenance, which is more costly to operate. It is available only in medical centres where a group of experienced radiologists team up to interpret the MRCP images. MRCP is especially useful for potentially occult CBD stones that fail to be discovered by conventional ultrasound or CT scans, as in our cases. However, the different properties of MRCP compared to EUS/ERCP require a different type of patient preparation, rendering it inconvenient to perform subsequent therapeutic ERCP immediately after MRCP, in the event that CBD stones are identified. On the other hand, linear EUS, compared to MRCP, is more portable and less costly to operate. In addition, although the learning curve for linear EUS is steep, it is economically feasible to train a small group of endoscopy fellows within the same hospital to perform the procedure. Quality images can be obtained from linear EUS and they can be further improved by adjusting either the contrast or brightness in real time, as well as by manipulating the relative distance, location and direction of the tip of the endoscope to the target lesion. It is also easy to interpret linear EUS images due to the proximity of the EUS probe to the CBD, which excludes intestinal gas interference. Although, linear EUS is more invasive than MRCP, the procedure-associated risk of performing linear EUS is similar to ordinary upper gastrointestinal endoscopy and lower compared to ERCP.
Patients
Cotton PB, Eisen GM, Aabakken L, Baron TH, Hutter MM, Jacobson BC, Mergener K, Nemcek A, Petersen BT, Petrini JL: A lexicon for endoscopic adverse events: report of an ASGE workshop. Gastrointest Endosc. 2010, 71 (3): 446-454. 10.1016/j.gie.2009.10.027.