A 2019 comprehensive review published in The Lancet Psychiatry looked at previously published studies. The review ultimately concluded that there was little evidence to support the use of CBD for mental health purposes and suggested that more research is needed in order to substantiate its use to treat symptoms of conditions such as anxiety, depression, and insomnia.
One 2020 review of studies found that participants showed improvements in anxiety levels after single doses of CBD ranging from 300 to 600 mg.   Such results indicate that the CBD may hold promise as a treatment to alleviate symptoms of acute anxiety.
How Much Should You Take?
Some recent research has generated concerns over the safety and potential long term effects of CBD. One study involved giving mice an equivalent of the maximum dose of the CBD medication Epidiolex, which is used to treat certain forms of epilepsy. The results indicated an increased risk for liver damage as well as concerns over its interaction with other medications.  
Start With a Low Dose
Before you try CBD, discuss your plan with your doctor. They may be able to recommend a dose and help you better understand any potential risks, complications, side effects, or interactions you might experience.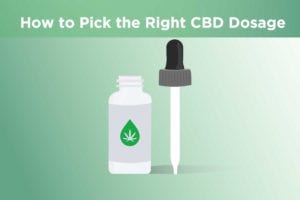 Here are some tips to guide you on how to find the right CBD dosage for your pain relief and other symptoms.
"I wouldn't recommend starting CBD without the supervision of a physician," says Dr. Patel, author of The CBD Solution. "Many times people purchase a CBD product, try a dose that that doesn't work for them, switch products and spin their wheels. Or, worse, they develop side effects."
1. Work with an expert
It can take a little while to get it right, so be patient. Many people do not see a difference in symptoms after one or two doses of CBD. It can take up to eight weeks of regular use to feel an impact, says Bridget Seritt, co-founder of the Canna-Patient Resource Connection, a Colorado-based organization that is working to protect patient rights and end stigma against those who choose cannabis as medicine.
2. Do some math
Let's say you and your doctor settle on a dose of 30 mg of CBD per day. Now what? The answer depends on which form of CBD you take.