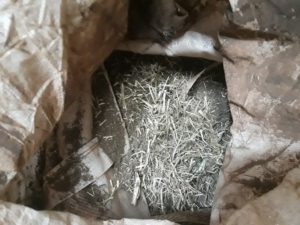 Weather will also be a key factor in determining when to pull the harvest trigger. Harvest time for hemp coincides with the hurricane season. Growers will have an easier time drying and curing their hemp floral biomass if they can bring it in before the arrival of a storm. This is the time when adequate labor is crucial. The vast majority of hemp growers for the CBD market are relying on labor to cut the stalk (the machete is the current tool of choice) and load the biomass. This takes a lot of time and physical exertion. I have heard reports of growers that had an excellent crop of hemp floral biomass but suffered massive losses because they could not harvest it in time (their two-person harvest team was not adequate). The importance of measuring the labor requirement is a big reason why we recommend that first-year hemp growers for the CBD market start with 1 acre or less. Growers need to keep track of the amount of man and woman hours that it takes to bring in the harvest. Maintaining sharp tools during the harvest process will also save time and effort.
Hemp biomass made from chipping the entire hemp plant. This biomass is low quality and will receive a reduced price. Photo by George Place
El inglés es el idioma de control de esta página. En la medida en que haya algún conflicto entre la traducción al inglés y la traducción, el inglés prevalece.
Drying and Curing Hemp
It is difficult to estimate the square footage of drying space needed per plant. Using a flu-cured tobacco with 800 square feet a grower was able to dry 1 acre worth of plants (approximately 1350 plants) in 3 days. Another grower was able to dry approximately 1.5 acres worth of hemp (plant number not stated) in a 2500 square foot barn.
CBD oil extraction process. Photo by George Place
Weekly testing of CBD content can inform the grower of when harvest should be initiated. This is in addition to the required THC test with the North Carolina Department of Agriculture. While some of the tests for CBD, cannabinoids, terpenes, pesticide residue, mold, and heavy metals can cost as much as $300 the return on investment can be significant. For example, if 1000 lbs of biomass will be harvested on one acre the difference between harvesting when the crop is at 6% CBD versus when the crop is at 7%CBD is equivalent to 10 pounds of CBD oil. Current prices for CBD oil are $5 per gram. With 454 grams per pound, a 1% discrepancy in CBD content on one acre can be a $20,000 crop value difference. Growers need to test frequently to make the right decision regarding harvest timing.
Estoy de Acuerdo / I agree
The session covered the following topics:
Drying neatly in a clean barn. Photo: A. Chamberlin.
UVM Extension Agricultural Engineering, Resource Innovation Institute, Efficiency Vermont, and VT Division of Fire Safety recently teamed up to provide a webinar as part of the UVM Extension NW Crops and Soils Team Hemp and UVM Extension New Farmer Project series. This session focused on safely and efficiently drying and curing hemp to support customer quality needs. An introduction to drying herbs and flowers is available in this post.
Drying Basics – Chris Callahan (UVM Ext Ag Eng) and Gretchen Schimelpfenig (RII) Cureco propane fired tobacco driers. Photo: C. Callahan.

The Science of Drying
Water, Air and Humidity
Drying Approaches

Ambient Drying
Heated, Forced Air Drying
Dehumidification & Heat Pumps

Public buildings and Vermont Fire and Building Safety Code
Major Hazards Associated with Drying Operations

Electrical
Use of Materials / Vapor barriers
Stored Combustible Materials
High Pile Storage
Blocked Exits / Lack of Exits
Homemade Equipment / Listed (UL) Tested / Designed Equipment
Heat / Moisture Removal

The slides from the webinar are available for download as a PDF and a video is also available.

The group encourages hemp growers to contact us for technical assistance regarding their drying and curing processes and facilities.