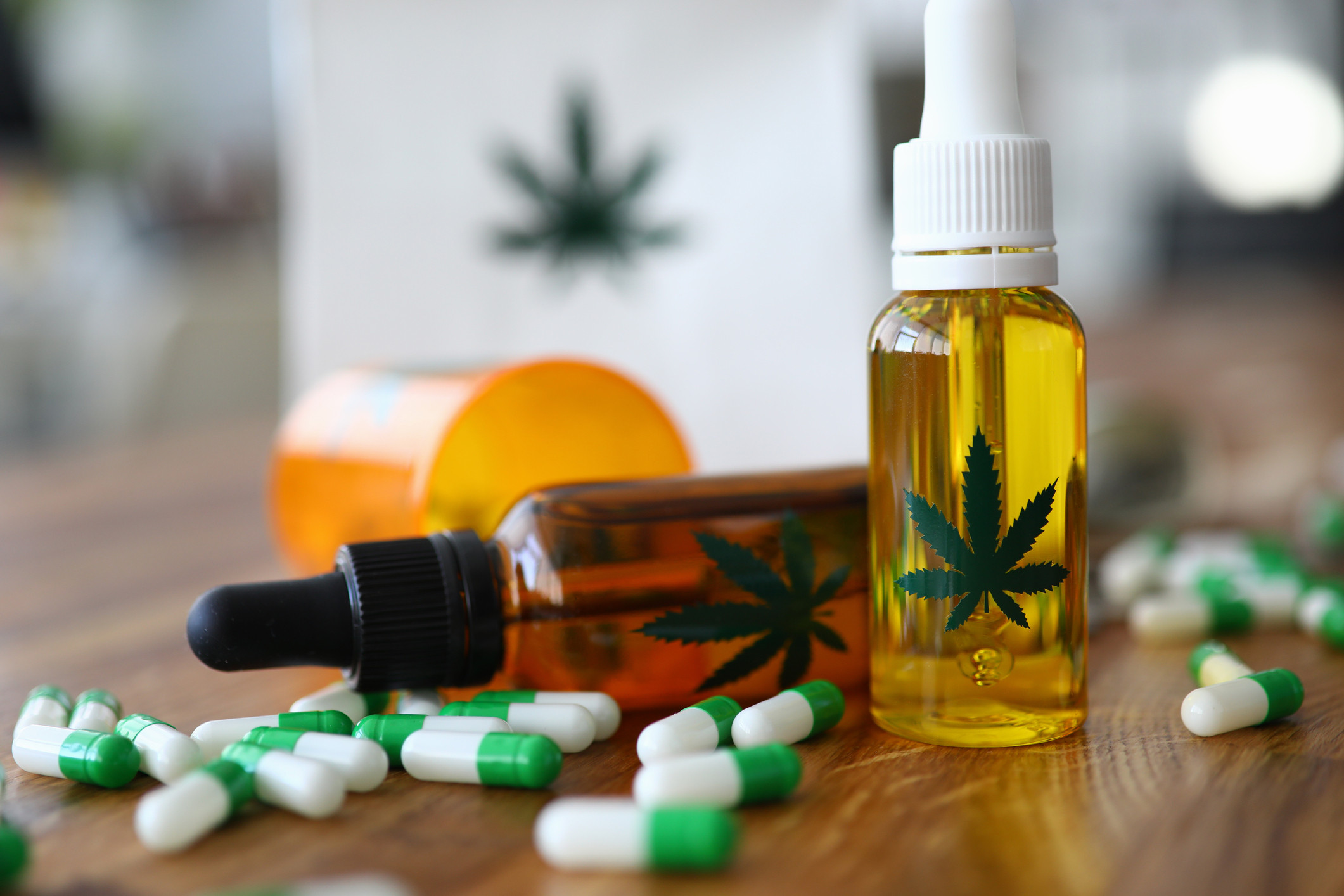 Products containing cannabidiol (CBD) seem to be all the rage these days, promising relief from a wide range of maladies, from insomnia and hot flashes to chronic pain and seizures. Some of these claims have merit to them, while some of them are just hype. But it won't hurt to try, right? Well, not so fast. CBD is a biologically active compound, and as such, it may also have unintended consequences. These include known side effects of CBD, but also unintended interactions with supplements, herbal products, and over-the-counter (OTC) and prescription medications.
Doubling up on side effects
While generally considered safe, CBD may cause drowsiness, lightheadedness, nausea, diarrhea, dry mouth, and, in rare instances, damage to the liver. Taking CBD with other medications that have similar side effects may increase the risk of unwanted symptoms or toxicity. In other words, taking CBD at the same time with OTC or prescription medications and substances that cause sleepiness, such as opioids, benzodiazepines (such as Xanax or Ativan), antipsychotics, antidepressants, antihistamines (such as Benadryl), or alcohol may lead to increased sleepiness, fatigue, and possibly accidental falls and accidents when driving. Increased sedation and tiredness may also happen when using certain herbal supplements, such as kava, melatonin, and St. John's wort. Taking CBD with stimulants (such as Adderall) may lead to decreased appetite, while taking it with the diabetes drug metformin or certain heartburn drugs (such as Prilosec) may increase the risk of diarrhea.
CBD can alter the effects of other drugs
CBD has the potential to interact with many other products, including over-the-counter medications, herbal products, and prescription medications. Some medications should never be taken with CBD; the use of other medications may need to be modified or reduced to prevent serious issues. The consequences of drug interactions also depend on many other factors, including the dose of CBD, the dose of another medication, and a person's underlying health condition. Older adults are more susceptible to drug interactions because they often take multiple medications, and because of age-related physiological changes that affect how our bodies process medications.
Double Apple
Crisp, sweet, and ultra-satisfying green and red apples.
Finally, cannabidiol has been shown to have anti-inflammatory properties. Since inflammation can trigger high blood pressure, or vice versa, something that combats inflammation outright is great to have on your side. You can use a CBD topical cream to relieve specific target areas or a CBD oil tincture or other consumable that allows for general and full body relief.
Cannabidiol doesn't just work in one way to potentially reduce high blood pressure. There are a few functions CBD effects in the body that have a direct role in blood pressure levels. First, some factors attributed to having high blood pressure are stress, anxiety, lack of sleep and fatigue. Some studies suggest that CBD can help manage and lower the symptoms of all three. Heightening clarity and focus, reducing anxiety levels, and helping to lower stress could also help with balancing blood pressure levels to some degree.
In a comprehensive update on the side effects and safety of CBD with a review of relevant animal studies and clinical data, the National Institute of Health tested daily doses of up to 300 milligrams of CBD supplements in pill form consistently for six months. Finding the supplements could be used safely even in such high doses, they also tested daily pill doses for 1,200 and 1,500 milligrams for up to four weeks.
When it comes to high blood pressure, there is no doubt that CBD products have earned its place as a popular alternative treatment method. Our CBD Tinctures provide a quick and easy way to find relief.
In a randomized, double-blind, and placebo-controlled crossover study of healthy volunteers, nine males were either given a placebo or 600mg of CBD. They used a laser Doppler and a finometer to monitor cardiovascular parameters of the volunteers. In the study, cannabidiol maintained cardiac output and reduced resting systolic blood pressure. The subjects that took the real dose of CBD had a lower blood pressure count, increased heart rate, and a decreased stroke volume. Though more research is vital before we can establish that CBD has a role in some cardiovascular disorder treatments, the study's data shows that precise administration of cannabidiol can reduce both the resting blood pressure and blood pressure caused by an increase in stress to humans.
While these studies show us an optimistic light for CBD's future, it's important to mention the risks involved with any natural chemical compound. We don't yet have enough conclusive evidence to determine that CBD is an effective treatment for any condition other than the ones approved by the FDA. Most evidence has been gathered through healthy volunteers or through animal studies, both of which implies we may see different results with an ill human subject. Combination of CBD with other high blood pressure medication is the biggest potential concern if you plan on using CBD for your hypertension. If you are already prescribed high blood pressure medication, taking CBD in combination can lower your blood pressure too much. "Too low" is just as bad as "too high," so you'll want to speak with your physician before adding CBD onto the medication you're already taking. Your doctor may want to reduce the dosage strength you're taking for your other blood pressure prescription before incorporating a CBD oil into your daily regimen.
Hypertension, or high blood pressure, affects 33% of adults over the age of 20 – 1 in every 3. Those numbers double to 66% for adults that are in their mid-60s or older. Tens of millions face suffering from high blood pressure in the United States alone. High blood pressure is a measurable, dynamic vital sign we can observe in all humans. The numbers indicate how much pressure is being applied to the blood flow throughout the internal vein network of the human body. As you move throughout your day, this blood pressure level changes based on all the emotional, physical, and environmental stimuli around you.
The best part about using CBD oil for high blood pressure is that because you're ingesting it to get relief from hypertension, you're also reaping all the other benefits it can provide.