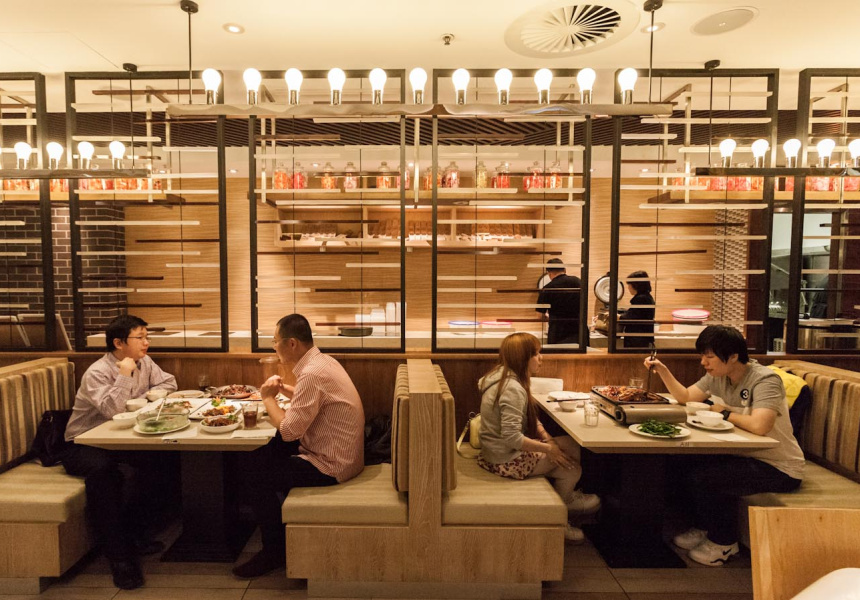 At Dainty Sichuan's sister city restaurant, located inside one of Bourke Street's many arcades, the bizarre is considered ordinary and chilli is truly king.
It has been said that Sichuan cuisine is composed of seven basic flavours: sour, pungent, hot, sweet, bitter, aromatic and salty. So here, you can expect the menu to stick to its bold and mouth-numbing traditions – where garlic, chilli oil, Sichuan pepper, sesame paste and ginger dominate your senses, whilst various organs such as intestines, arteries, tongue, liver and skin will keep your palate intrigued.
Pleather booths and an almost tacky casino vibe may deter you from entering, but the sight of mysterious red and white hotpots filled with anything you can boil will leave you with a severe case of food envy from the get-go. Orders are served banquet-style, and tables are topped with hotplates, so you can experiment with your culinary skills to your heart's content.
Combination seafood hotpot at Dainty Sichuan Lonsdale. Photo: Josh Robenstone
Dainty Sichuan Lonsdale is the latest in the Dainty dynasty that started in 2003 and now consists of eight restaurants ranging from South Yarra to Maribyrnong, Glen Waverley and Box Hill, including offshoot Tina's Noodle Kitchen.
Dainty Lonsdale resembles a luxury hotel lobby. Photo: Josh Robenstone