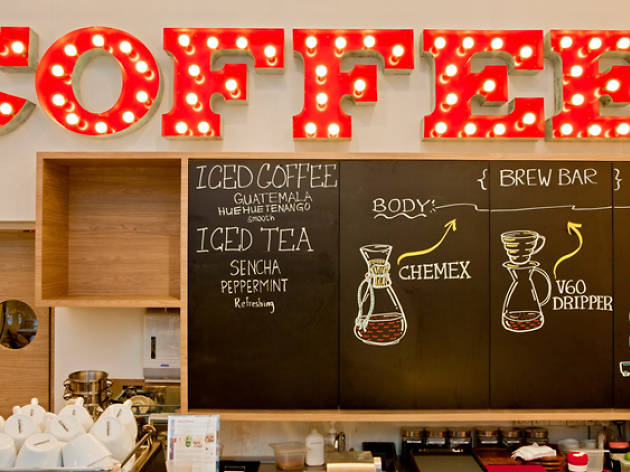 Cake Spade has moved to a bigger space down the row of shophouses in Tanjong Pagar, decked with retro, quirky interiors and a pink neon sign that screams, 'I want it all'. And it's hard not to when faced with a phalanx of cake slices from strawberry tofu cheesecakes to Speculoos cookie butter cheesecakes ($6.90/slice). The giant cake shakes ($16.90) will make you weak at the knees, too: think milkshakes stacked with wafers, cake bits, sprinkles and so much treacly stuff it's amazing these mason jars don't topple over. Order the unicorn cake shake, with a towering swirl of cotton candy on a rainbow-sprinkled cone, and you'll understand. There are also sugar rush-inducing desserts like an Oreo cookie brownie ($3.80), apple cinnamon crumble ($5.50) and passion fruit meringue tart ($7.50). And if a special occasion calls for it, order a customised cake (from $60) and make it every bit as decadent and voluptuous as Cake Spade's flamingo decor.
Before the night time shenanigans of The Spiffy Dapper kicks in, 73 Amoy Street is a cosy, romantically lit coffee spot. The experimental drinks here are the result of creative thought by Dapper co-owner Abhishek Cherian George and head chef Christine Seah, but if it's a straight espresso you're hankering after, their functional espresso-based drinks are brewed with their punchy house blend.
'Do you know the Muffin Man that lives in Drury Lane?' With this café on Tanjong Pagar, we can't help but hum the lyrics to the nursery rhyme that inspired it. Incidentally, it's also what the owners – three keen home baristas and two chefs – had in mind when they decided to start this café. They've since moved on from selling muffins to specialising in all-day breakfasts, salads and sandwiches. Pair your dishes with a coffees, smoothies or a cup of tea. In addition to its range of baked goods (including cakes and tarts), some simple food items are available as well, such as baked eggs (from $12) served with homemade baked beans, cheese, toast and a choice of protein, or the steak sandwich ($8) with caramelised onions, which works well as a quick lunch option.
Jewel Coffee
This growing brand of grab-and-go coffees, with an outlet in Rangoon Road, is more than just a way to pick up a quick boost. Hit up the brew bar for a tasty blended or single-origin sip to conquer the post-lunch sleepies.
It's hard to get particularly excited for yet another vintage café to hit the city, but we make exceptions for My Awesome Café on Telok Ayer. Located on the ground floor of what used to be the Telok Ayer Chung Hwa Free Clinic, My Awesome Café takes the retrospective-looking trend aesthetic and knocks it out of the ballpark with equal parts knack for sourcing and creative ingenuity. The man responsible for the high-ceilinged ground floor café – once the clinic's consultation room – is hotel and F&B industry veteran, Franck Hardy, who was introduced to the space by his design agency friends occupying the two levels above the café. Asked to present a proposal for the URA-conserved space to the building's landlord, Hardy took an aimless drive around town and found inspiration in a cache of old school tables and scrap fire house pipes. 'It wasn't a part of my concept at all,' says Hardy, 'But I fell in love with them instantly.' Subsequently inspired by his find, Hardy settled on the café's theme of giving items, and people, a second chance at life, Hardy worked with the uncles who owned the pipes and school desks he found, and the subsequent uncles he befriended who sold reclaimed wood and vintage fans all worked with him to pull the furnishings for the café together. Working with input from his creative agency friends at Mangham Gaxiola upstairs, My Awesome Café successfully recreates the feel of a really cool friend's cosy living room with its motley collection of fire pipe
Dapper Coffee
By Time Out Singapore editors Posted: Thursday September 1 2016
No office towers throw shadows on The LoKal's shophouse unit in Bukit Pasoh, yet you'll struggle to find a seat among white-collared types deep into lunchtime on a weekday. Modelled after Melbourne's brunch institution, Pope Joan, The Lokal is staffed by a team headed by Aussie chef Darren Farr, who brings experience from the original Tetsuya in Sydney. With blue Peranakan-style tiled walls contrasting against dark timber floors, the rustic, hipster-pleasing interior features quirks like upside-down potted herb plants that teeter precariously from the ceiling, while natural light floods in from the window over the kitchen to put their chefs in the spotlight. Most dishes sport familiar-to-locals ingredients, but with restaurant-level finesse and more forgiving prices. The blackboards detailing the day's specials are always worth considering before you pick from the menu. For a light lunch, go for options like The LoKal Lobster Roll ($22). Gherkin, coleslaw and lemon mayonnaise elevate curls of slipper lobster, packed in between a hotdog bun. But if it's eggs you're after, the Pimp Your Breakfast beats any morning-after brunch: you have the freedom to assemble your very own plate. And what an assortment The LoKal puts out. Cram your breakfast with eggs done three ways ($5-$6), goopy cauliflower and cheese ($6), as well as your pick of protein – we recommend the salmon ($6) and mackerel ($6),both smoked in-house over cherry and apple wood chips. The chef-y leanings of this mo
Kyu Coffee Bar
Five Square, #01-03 Great Eastern Centre, 1 Pickering Street
Hours: Mon – Tues: 7:30am – 6pm, Wed – Fri: 7:30am – 10pm, Sat: 9am – 4pm
Any cafe that makes all their espresso-based cuppas with a double shot of espresso deserves kudos in our books, and even more so if those double shots are made with strong single origin beans from primo coffee-growing regions from around the world. Jewel Coffee was one of the pioneers in the artisanal third-wave coffee scene in Singapore, and to this day they continue to put out consistently good cups of joe prepared by baristas who really know and love their beans.