About HempMeds® Mexico
HempMeds ® Mexico is a Mexico-based company, created to provide access to cannabinoid-based products including cannabidiol (CBD) hemp oil products as they become legal in the country of Mexico for the first time. Our Company is a sales, marketing and distribution company. HempMeds ® Mexico plans to work directly with the Mexican government to safely and legally provide access to our CBD hemp oil products. HempMeds ® Mexico is the first company to legally ship RSHO-X CBD hemp oil into Mexico. For more information, please review the company's website at: http://hempmeds.mx/.
Dr. Titus concludes, "This is an historic day for the citizens of Mexico as well as for Medical Marijuana, Inc, its shareholders and team.  It is also an epic achievement in the global reintroduction of hemp.  We look forward to educating the public on cannabis and cannabidiol in the future.  Only with awareness, education and compassion will we be able to help others gain the freedom to benefit from cannabis." 
About HempMeds ®
HempMeds ® offers mainstream marketing, sales, customer service, and logistics for the cannabis industry. HempMeds ® is a corporate portfolio company of Medical Marijuana, Inc. (OTC Pink:MJNA) and the Company's exclusive master distributor and contracted marketing company. In addition to handling sales and distribution, HempMeds® is the communication hub for the Medical Marijuana Inc. portfolio of companies.
Mexican Government Grants Import of CBD Hemp Oil From Medical Marijuana, Inc. and Ushers In a New Chapter in World History
February 03, 2016 09:00 ET | Source: Medical Marijuana Inc Medical Marijuana Inc
SAN DIEGO, Feb. 03, 2016 (GLOBE NEWSWIRE) — It took him more than eight hours travel by bus to get to Mexico City.  Around mid-day, Abelardo Maldonado Constantino emerged from the COFEPRIS building with a piece of paper – an historic document – in hand.  It is one of the first two permits issued by the Mexican government allowing his daughter, Alina, access to and import of RSHO-X, a non-psychoactive cannabidiol (CBD) hemp oil. 
Dr. Stuart W. Titus, PhD and Chief Executive Office of Medical Marijuana, Inc. (OTC Pink:MJNA) states, "The document that Abelardo now holds represents one thing: freedom.  It is freedom for Alina, Maria Paula, and millions of residents of Mexico. We celebrate the decision by the government of Mexico to allow their people the freedom to access RSHO-X CBD hemp oil."
FOOD AND DRUG ADMINISTRATION (FDA) DISCLOSURE
These statements have not been evaluated by the FDA and are not intended to diagnose, treat or cure any disease.
Hemp and marijuana are in the cannabis species and there are more than 85 cannabinoids that make up each plant.  Produced by Medical Marijuana, Inc. RSHO-X contains cannabidiol, a non-psychoactive component of the hemp plant.  Access to this product has not been easy but, with their victories, the families of Grace, Alina and Maria Paula have made it easier for the more than 120 million residents of Mexico to also gain an import permit.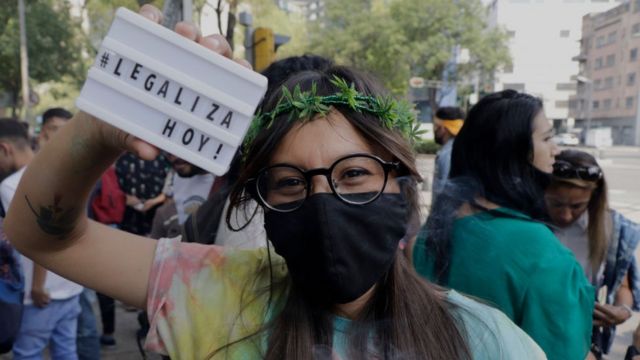 Dicha ley, que permitiría su comercialización y crearía un mercado legal de esta sustancia en México, aún no ha visto la luz por la incapacidad de diputados y senadores de llegar a un consenso pese a las tres prórrogas de tiempo que les fueron otorgadas.
El asunto viene de lejos. Ya en 2017 el mismo organismo había declarado inconstitucionales los artículos de la Ley General de Salud que contemplan la prohibición absoluta del consumo personal de cannabis, por lo que ordenó al Congreso que legislara para que fuera una sustancia regulada.
La decisión de la Suprema Corte este lunes de emitir una declaratoria general de inconstitucionalidad sobre la norma que impide el uso recreativo del cannabis en el país despertó muchas dudas sobre qué significa esto en la práctica.
Es por ello que la Corte decidió emitir ahora la declaratoria con la que cannabis y THC quedan fuera de los artículos legales que prohíben su consumo recreativo y que solo permitían su uso medicinal o científico, al considerar que no existen riesgos colectivos para la salud.