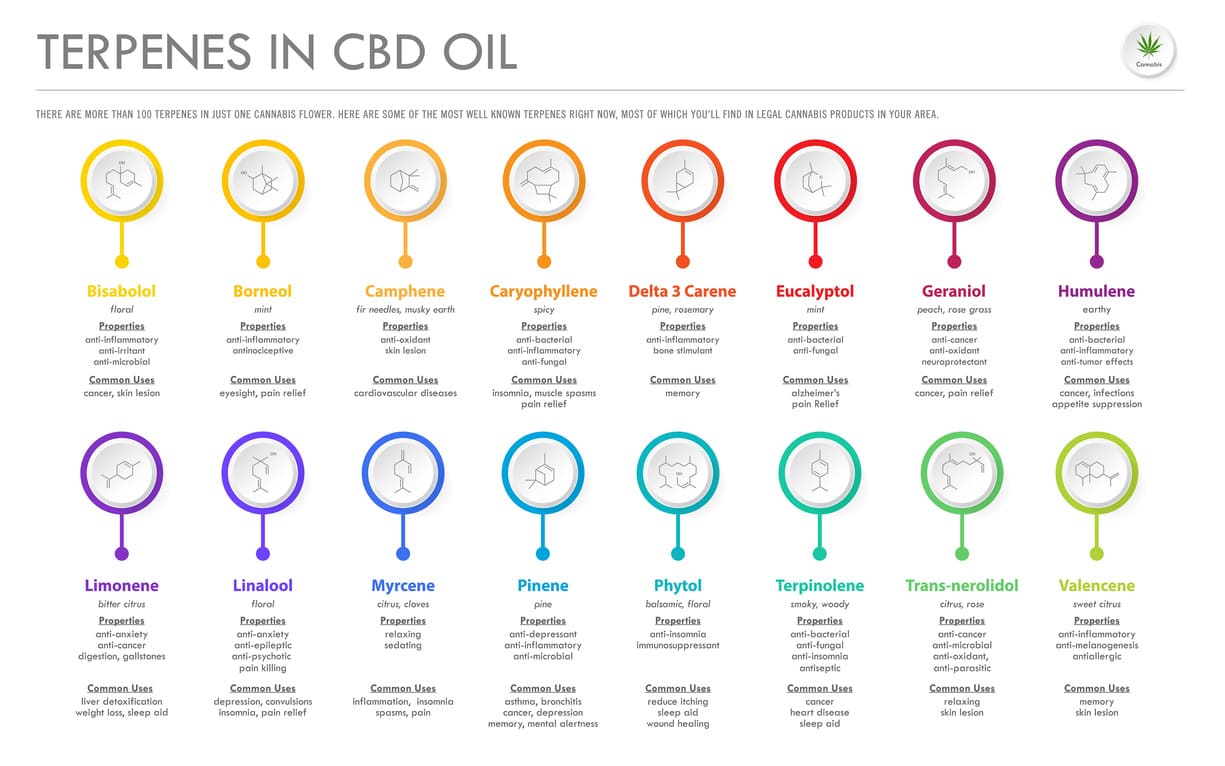 Also, each terpene has its own set of benefits. For example, oils high in linalool and myrcene, two terpenes known for their mild and relaxing properties, are effective for sleep. CBD oils with terpenes like limonene and caryophyllene can be used to help provide energy and increased levels of concentration
The terpene Limonene is commonly found in the peels of citrus fruits, especially lemons. It is also a crucial terpene in many hemp extract products, and adds a wonderful boost in terms of the flavor and aroma profile of a CBD oil. Limonene is known to have antifungal properties. It can also improve mood, reduce inflammation and curb anxiety. Adding Limonene to CBD oil can increase the absorption rate of other terpenes.
Another very common terpene in hemp is Linalool. It is a compound that has a floral and delicate aroma, common to many plant species (including lavender). As for the effects of terpene Linalool, some brands add it to their topical product line for its lovely scent, which is commonly used in aromatherapy. Linalool works effectively on sleep and anxiety.
Linalool
In this article, we will find out what exactly terpenes are and why they are so important. Finally, we will look at the most well-known terpenes, their benefits and their use
Scientists have been studying the properties of terpenes for some time now and have come to an important conclusion. Hemp cannabinoids (like CBD) work more effectively in the presence of terpenes, rather than when isolated on their own.
Pinene
For humans, different terpenes have different effects and health benefits. Every plant has a unique blend of terpenes and every human will react to them differently.
There are several hundred different terpenes in the world, and more than 200 have been identified in cannabis plants. There are surely many more to be discovered. However, only a few terpenes in industrial hemp are concentrated enough to be considered significant. We will detail some of them in this article
Hemp flower naturally expresses hundreds of different types of oils . Some of these oils, including flavonoids and terpenes, are also present in other plant species. Cannabinoids, however, such as CBD, are unique to Cannabis sativa , so they aren't found anywhere else in nature.
What are terpenes?
Ocimene is relatively rare in hemp, but it's very common in various flower and herb species. This terpene appears to have antiviral and antibacterial properties, and it has woody overtones that combine with light, sweet notes to create a unique aroma.
9. Sabinene
Aside from our top-shelf hemp nugs, we also take great care to preserve the terpenes in our other products. From our Hemp Flower Nectar tincture to our Live Resin Hemp Badder, we afford terpenes the respect they deserve by only including full-spectrum hemp extract in our products. Some of our products even contain live resin, which is even more delicious and terpene-rich.