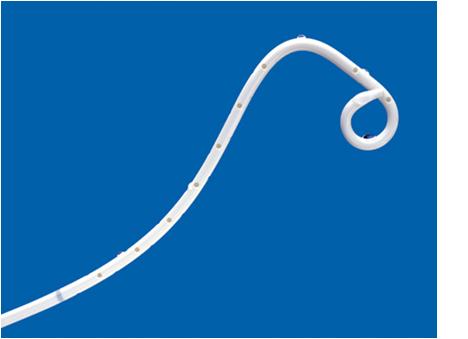 Sometimes the biliary drainage procedure may be extended with the placement of a permanent plastic or metal stent across the site of the bile duct blockage. Stents are usually inserted a few days after the initial drainage procedure and they keep the narrowed duct open without the need for a catheter.
(A metal biliary stent)
What are the indications for percutaneous biliary drainage +/- stenting?
Biliary drainage relieves obstruction by providing an alternative pathway to exit the liver.
Who will perform the procedure and where will it take place?
(A biliary drain)
Crino SF, Rimbaș M, Gabbrielli A, Larghi A. Endoscopic Ultrasound Guided Gallbladder Interventions: a Review of the Current Literature. J Gastrointestin Liver Dis. 2019 Sep 1. 28 (3):339-347. [Medline]. [Full Text].
Lammer J, Hausegger KA, Flückiger F, Winkelbauer FW, Wildling R, Klein GE, et al. Common bile duct obstruction due to malignancy: treatment with plastic versus metal stents. Radiology. 1996 Oct. 201 (1):167-72. [Medline].
Contraindications
The major advantage plastic stents have over metallic stents is that they can be removed and replaced if necessary. Metallic stents, on the other hand, are generally permanent, but they have the advantage of a larger lumen and longer patency. This advantage is achieved by a design that enables placement with a relatively small delivery device (7 French) that contains the constrained stent by an outer sheath. Once the stent is positioned, the outer sheath is retracted, allowing the stent to expand.
Sofi AA, Khan MA, Das A, Sachdev M, Khuder S, Nawras A, et al. Radiofrequency ablation combined with biliary stent placement versus stent placement alone for malignant biliary strictures: a systematic review and meta-analysis. Gastrointest Endosc. 2018 Apr. 87 (4):944-951.e1. [Medline].
Outcomes
Sampaziotis F, Elias J, Gelson WT, Gimson AE, Griffiths WJ, Woodward J, et al. A retrospective study assessing fully covered metal stents as first-line management for malignant biliary strictures. Eur J Gastroenterol Hepatol. 2015 Nov. 27 (11):1347-53. [Medline].