Keywords: CBD-enriched medical cannabis; Intractable epilepsy.
Purpose: To describe the experience of five Israeli pediatric epilepsy clinics treating children and adolescents diagnosed as having intractable epilepsy with a regimen of medical cannabis oil.
Results: CBD treatment yielded a significant positive effect on seizure load. Most of the children (66/74, 89%) reported reduction in seizure frequency: 13 (18%) reported 75-100% reduction, 25 (34%) reported 50-75% reduction, 9 (12%) reported 25-50% reduction, and 19 (26%) reported <25% reduction. Five (7%) patients reported aggravation of seizures which led to CBD withdrawal. In addition, we observed improvement in behavior and alertness, language, communication, motor skills and sleep. Adverse reactions included somnolence, fatigue, gastrointestinal disturbances and irritability leading to withdrawal of cannabis use in 5 patients.
Conclusions: The results of this multicenter study on CBD treatment for intractable epilepsy in a population of children and adolescents are highly promising. Further prospective, well-designed clinical trials using enriched CBD medical cannabis are warranted.
Methods: A retrospective study describing the effect of cannabidiol (CBD)-enriched medical cannabis on children with epilepsy. The cohort included 74 patients (age range 1-18 years) with intractable epilepsy resistant to >7 antiepileptic drugs. Forty-nine (66%) also failed a ketogenic diet, vagal nerve stimulator implantation, or both. They all started medical cannabis oil treatment between 2-11/2014 and were treated for at least 3 months (average 6 months). The selected formula contained CBD and tetrahydrocannabinol at a ratio of 20:1 dissolved in olive oil. The CBD dose ranged from 1 to 20mg/kg/d. Seizure frequency was assessed by parental report during clinical visits.
Copyright © 2016 British Epilepsy Association. Published by Elsevier Ltd. All rights reserved.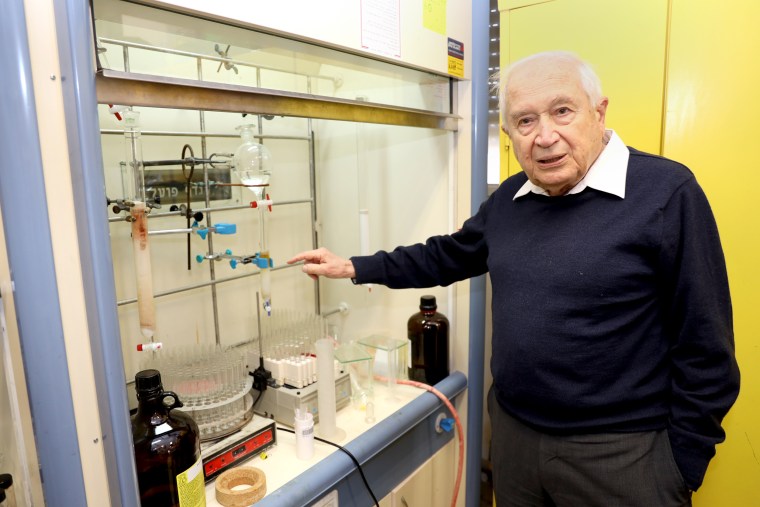 In a 2018 British Journal of Pharmacology study, Mechoulam and his co-authors wrote that their synthetic compound, cannabidiolic acid methyl ester (called HU-580 in the paper) could be more effective than existing CBD remedies, making it "a potential medicine for treating some nausea and anxiety disorders." Those initial clinical tests found the acids have yielded results on par, and even exceeding, existing treatments, without the side effects.
"I think it's a big deal," Mechoulam, who acts as EPM's head of research, said, comparing it to his discoveries about CBD and THC.
Ziva Cooper, research director of the UCLA Cannabis Research Initiative, said EPM's research confirms what many in the field have long suspected about cannabis acids, but have been unable to confirm due to their instability.
"It works like a steroid. If it doesn't have adverse effects, then you have a replacement, which is great," Peer said, discussing testing he did with cannabis acids and inflammatory bowel disease.
"Not much happened," Mechoulam said, noting that it would take more than 30 years before his clinical work on using CBD, or cannabidiol, to treat epilepsy became widely accepted. Greenwich Biosciences, which is owned by GW Pharmaceuticals, was able to develop the first cannabis-derived drug that built on Mechoulam's research. The drug, Epidiolex, treats seizures associated with two rare forms of epilepsy and was approved by the FDA only last year.
The naturally occurring but unstable CBD acid (CBDA) is a thousand times more potent than CBD in binding to a particular serotonin receptor thought to be responsible for alleviating nausea and anxiety.
The research is the product of a startup called EPM, in partnership with Mechoulam, six universities in Israel, the U.K. and Canada, the world's largest topical cream company and a publicly traded laboratory company.