In an age where revivals, renovations and glossy makeovers are making social climbers out of our bars and pubs, our love for the resistance grows, and nowhere do we love better for their rough edges than the Catfish in Fitzroy. It's a rambling, weathered boozer that knows you care much more about what's in your glass and what's on the stage than whether or not the walls are millennial pink and if there's a Montauk theme to the furnishings (there's not, obviously).
When the Marquis of Lorne Hotel closed, tears were shed for one of the golden girls of Fitzroy. New owners, a group with serious hospitality chops, have struck a perfect balance between modernising the Marquis and retaining her classic charms. The timbers of this backstreets pub are worn smooth by the devoted throngs who head here after dark for a pub dinner that's a cut above. Let a creamy, salty plate of taramasalata skewered with crisp shards of pita bread tide you over until your pillowy gnocchi with garlic and greens arrive at your rooftop perch.
10. The Local Taphouse
The CBD's (relatively) new Garden State Hotel is huge. Four levels surround a central atrium that lets natural light permeate from above and also leads down to the basement cocktail bar. Black steel, greenery and an aquarium's worth of glass give the whole place a greenhouse atmosphere. At any of three bars, chipper and quick-witted staff pour ultra-safe beers like Fat Yak and Peroni, with an excellent amber from McCracken's.
Urban Alley has the potential to finally give Docklands residents the local they've sorely lacked. Located underneath the Melbourne Star, the venue is part craft brewery and part pub, with a line-up of four core beers (the signature pale plus a lager, IPA and American pale ale) brewed on-site – you can even watch the team hard at work through the massive glass windows.
6. Gasometer Hotel
On any given night at this Collingwood bluestone stalwart, punters of all ages, genders and sexualities are sinking $6 pints of Vale Lager at happy hour by the roaring fireplace, smashing beer burgers and parmas or veg, vegan or gluten-free meals, and standing shoulder-to-shoulder watching gigs on the mezzanine level of the 350-person bandroom. All of this is thanks to a new direction that the Gaso took several years ago, to create a warm, welcoming environment that would reflect Melbourne's incredibly diverse music scene, and the people who make up that ecosystem.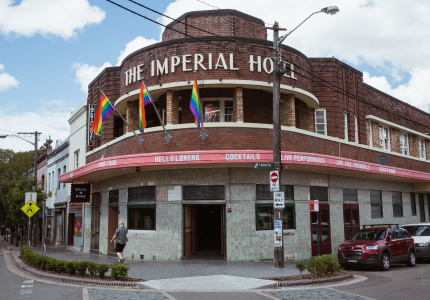 There's no single criteria that achieves the gold standard for great boozer (although the weight and circumference of the house parma does make an impression). But Sydney's best pubs hit a sweet spot where history, imagination and great food and drink collide.
Sydney's pubs – what would we do without them? For all of us at Broadsheet, it doesn't bear thinking about.
The Imperial Hotel
What they all share in common is their standing as perfect places to meet – whether for an affordable meal, a game of trivia or a weekend wind up (or wind down). You'll find what you're looking for at one of these pubs.
Some of the establishments on this list are as old as the city itself (but more than keep up with times). Others are modern envelope-pushers that challenging our ideas about what a friendly local can be.
One of the major arteries of Sydney's drag and queer culture. This multistorey art deco pub was refurbed in 2018 after a tumultuous few years. Now it's a class act from top to bottom, with a pizzeria and a veg-forward restaurant called Priscillas. The Imperial's basement performance and dance space is a refuge for free love and self-expression.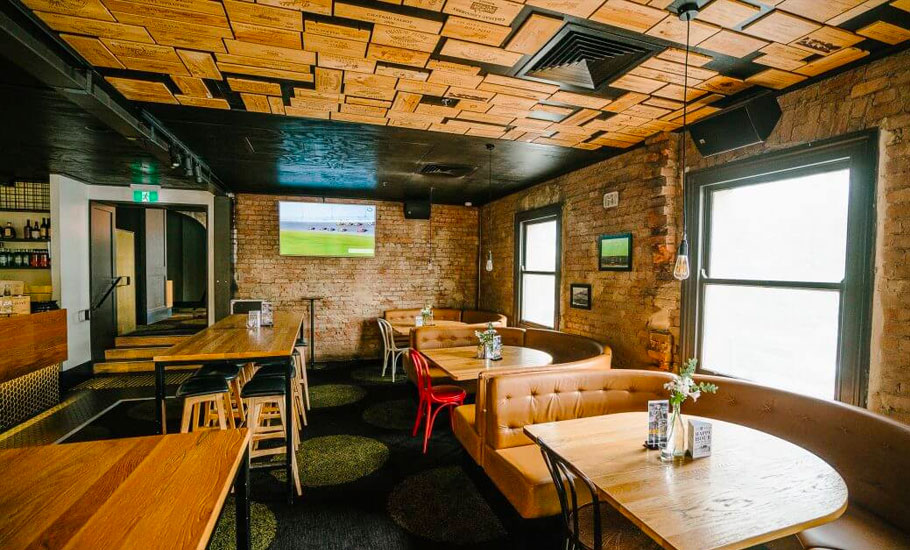 Stop by The Duke for breakfast, lunch or dinner and enjoy our modern food menu.
Monday – Wednesday / 12pm – 9pm
Thursday / 12pm – 10pm
Friday – Saturday / 12pm – 12am
Sunday / 12pm – 10pm
Eat & Drink
We're located in the heart of Melbourne's CBD, opposite The Forum and a short walk from the MCG, Fed Square and Flinders Street.
Rooftop
Established in 1853, The Duke of Wellington is Melbourne's oldest licensed pub. With a diverse clientele and talented crew at the helm, we look forward to welcoming you, whether you're here to watch the sport, catch up with friends over dinner and drinks or check out our new rooftop bar.