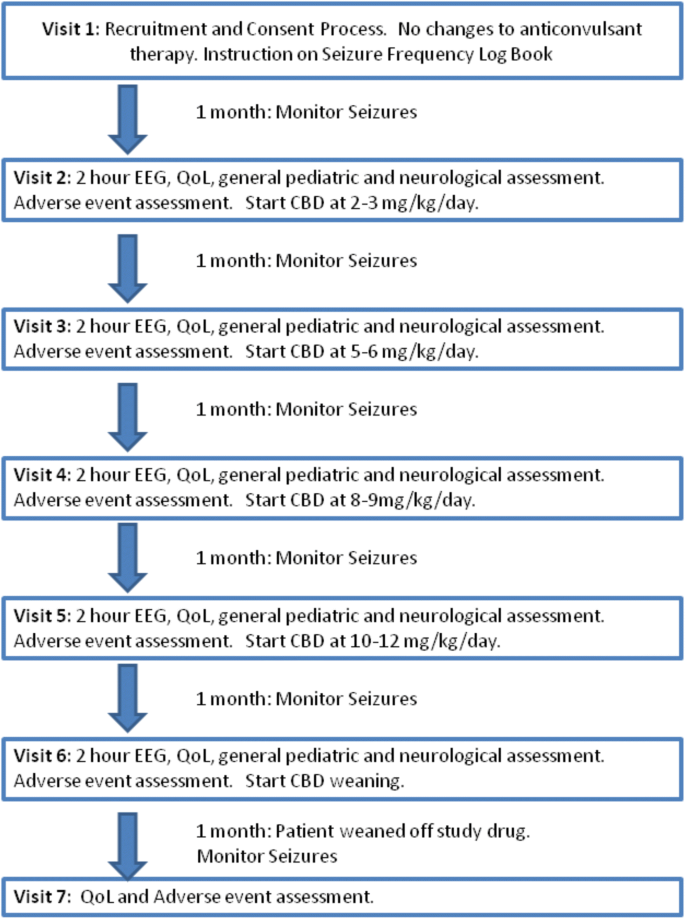 Twenty-eight children with treatment resistant epileptic encephalopathy ranging in age from 1 to 10 years will be recruited in four Canadian cities into an open-label, dose-escalation phase 1 trial. The primary objectives for the study are (i) To determine if the CBD-enriched Cannabis herbal extract is safe and well-tolerated for pediatric patients with treatment resistant epileptic encephalopathy and (ii) To determine the effect of CBD-enriched Cannabis herbal extract on the frequency and duration of seizures. Secondary objectives include (i) To determine if CBD-enriched Cannabis herbal extracts alter steady-state levels of co-administered anticonvulsant medications. (ii) To assess the relation between dose escalation and quality of life measures, (iii) To determine the relation between dose escalation and steady state trough levels of bioactive cannabinoids. (iv) To determine the relation between dose escalation and incidence of adverse effects.
Methods
Monthly follow-up: Caregivers will return to the clinic for the monthly testing as described above. Data from the study diaries will be copied for analysis. Following the completion of testing, parents will receive a new 33-day supply of the 1:20 THC:CBD Cannabis herbal extract from the research pharmacist. Parents will be instructed to administer the extract at increasing doses over the next 3 months; i.e. at 5–6 mg/kg/day divided BID at visit 3, 8–10 mg/kg/day divided BID at visit 4, and 10–12 mg/kg/day divided BID at visit 5. If the participant experiences significant side-effects at a certain dose, the subsequent CBD dose will be adjusted to the mid-point between their current dose and former dose. Parents will be instructed to continue tracking their child's seizure activity and monitoring the child for potential side effects in the same manner as the initiation of therapy month.
Regarding calculation of dosage and distribution of 1:20 Δ 9 -THC:CBD Cannabis herbal extract at each study visit
A flow chart of participant enrollment, treatment with CBD-Enriched Cannabis herbal extract, monitoring and weaning
By the time the CBD dose was increased to 10–12 mg/kg/day, all participants -except for participant A-07, who had a normal background activity on the initial EEG– had an improvement in their EEG encephalopathy rating scale with most improving by one point on the rating scale. Participant A-03 had an improvement by two points. During the course of the study, three participants had an improvement in their EEG Spike Index scores. Participants A-03 and A-04 had resolution of their continuous spike activity in sleep. Full details of EEG results are provided in Supplementary Figures 2A,B.
Trough anticonvulsant levels were measured at Visits 2–6 to identify a possible drug interaction with CBD, a known competitive inhibitor of CYP2C and CYP3A isozymes (15). CSS, Min levels were obtained for valproic acid, lamotrigine, levetiracetam, topiramate, and clonazepam. CSS, Min levels for stiripentol were not obtained as this assay was not available to us through the Saskatchewan Provincial Health Laboratory or its partnering laboratories.
At Visits 2–7, parents completed a modified Quality of Life in Childhood Epilepsy (QOLCE-55) survey which, in addition to questions assessing the domains including cognition, physical independence, social engagement, well-being, behavior (11), contained 13 additional items about sleep, verbal and non-verbal communication, interpersonal interactions, and irritability. Each item was rated from 1 (= Very Often) to 5 (= Never) or marked "Not Applicable." The scores for reverse items were inverted and then all scores were transformed using (Score-1) × 25. The mean score for each subscale was calculated ignoring those marked "Not Applicable."
Safety and Tolerability Outcome Measures
CARE-E is a multi-center, phase 1, open-label, dosage escalation study using a Health Canada approved and Good Manufacturing Practices certified 1:20 THC:CBD CHE as adjunct therapy to treat children with epileptic encephalopathy. The primary objectives were to assess the safety and efficacy of CBD-enriched CHE, whereas secondary objectives included an analysis of trough steady state (CSS, Min) levels of CBD, THC, and cannabichromene (CBC); as well as an assessment of the correlation between cannabinoid levels and therapeutic effect. CBC levels were measured as the CHE used in this study contained 4% CBC by volume. We present results for seven CARE-E participants recruited at the University of Saskatchewan site.
RH, RT-W, JA, BA, SC, RL, AL, SM, DM, DN, EP-L, BS, and JT-Z contributed to the design of the study protocol. RH, LH, EL, and PM are site investigators for CARE-E. SC analyzed the data. RH, RT-W, JA, RL, and AL interpreted the data. SV assisted with the development and validation of the plasma cannabinoid assay used in this study. RH drafted the manuscript. All authors contributed to the revision of the manuscript and approved it for submission.
Safety Outcome Measures
Participant characteristics at time of recruitment into CARE-E including age, epilepsy diagnosis, and concomitant anticonvulsant medications.
The datasets generated for this study are available on request to the corresponding author.