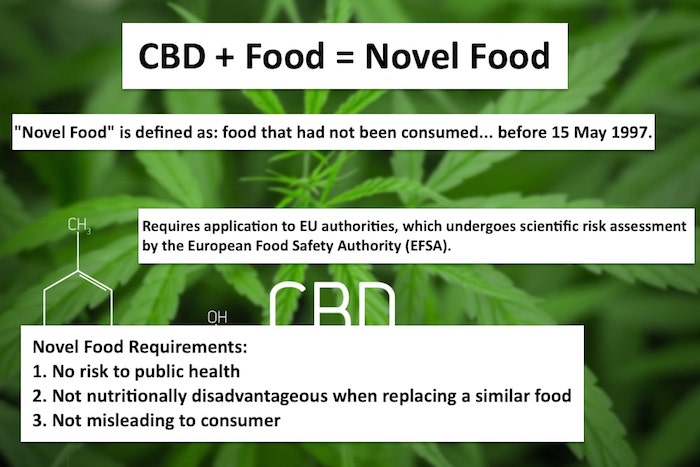 "The hemp plant (Cannabis sativa L.) contains a number of cannabinoids and the most common ones are as follows: delta-9-tetrahydrocannabinol (Δ9-THC), its precursor in hemp, delta-9-tetrahydrocannabinolic acid A (Δ9-THCA-A), delta-9-tetrahydrocannabinolic acid B (Δ9-THCA-B), delta-8-tetrahydrocannabinol (Δ8-THC), cannabidiol (CBD), its precursor in hemp cannabidiolic acid (CBDA), cannabigerol (CBG), cannabinol (CBN), cannabichromene (CBC), and delta-9-tetrahydrocannabivarin (Δ9-THCV). Without prejudice to the information provided in the novel food catalogue for the entry relating to Cannabis sativa L., extracts of Cannabis sativa L. and derived products containing cannabinoids are considered novel foods as a history of consumption has not been demonstrated. This applies to both the extracts themselves and any products to which they are added as an ingredient (such as hemp seed oil). This also applies to extracts of other plants containing cannabinoids. Synthetically obtained cannabinoids are considered as novel"
Update: 14th February 2020. Information below has been updated to reflect the latest from the Food Standards Agency and CBD foods/food supplements.
Excluded from novel food regulations are CBD foods where the CBD is derived from cold pressed hemp seed oil or flour.
The Novel Food Regulation
Historically, Industrial hemp has been cultivated for its fibre for use in clothing, paper and construction. More recently, in part due to a better understanding of its safety and therapeutic properties, industrial hemp is grown to make CBD for use in food, food supplements and vape products.
CBD flower and CBD bud have become the popular term to mean the flower and bud of hemp. With claims of CBD content, low but 'legal' levels of THC, flower and bud are commonly sold as 'tea' and under other guises. Despite the increasing availability of CBD flower and CBD bud in UK shops and online, not dissimilar the dispensaries in the US, these products are in fact a controlled substance in the UK. Then why is it sold openly you might ask?
What you will learn
* 'Not detected' means no THC at 0.01% as verified by accredited ISO lab.
The old status which no longer applies is below:
For example, industrial hemp may be grown under licence in the UK. It is a strain of the cannabis plant that contains little or no THC, but does contain CBD.
CBD oil can also be extracted from these plants and, as it is a legal cannabinoid, can be sold in the UK.
Cannabis oil
But Sativex, which is a 50-50 mix of THC and CBD produced in a lab, has been approved for use in the UK by the MHRA as a treatment for multiple sclerosis.
The most well-known of these are THC and CBD.
Personal use
In 2016, the Medicines and Healthcare products Regulatory Agency (MHRA) said that CBD products, if advertised for these medical purposes, needed to be licensed.