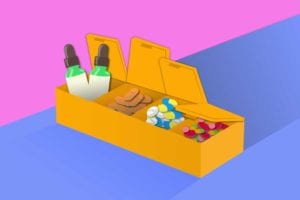 "Based on what we know now about the way CBD is metabolized, I would not expect significant drug-drug interactions with drugs commonly used in arthritis treatment, such as methotrexate, and most nonsteroidal anti-inflammatory drugs (NSAIDs). I would advise caution on one NSAID, diclofenac, because there isn't information on how CBD affects — if at all — the enzyme that metabolizes it," says Dr. Bemben.
CBD (cannabidiol) is seemingly everywhere, with oils, tinctures, pills, chocolates, gummy bears, and creams available all over the internet, at national drugstore chains, and perhaps at your local farmer's market — even if you don't live in a state where medical or recreational marijuana is legal.
Are older people more at risk of CBD drug interactions?
Tell your rheumatologist and anyone else who prescribes medication for you. If you need surgery, an anesthesiologist may choose a different dose or type of anesthesia if you're using CBD.
"If you fill all of your medications at the same pharmacy, your pharmacist will be able to assess for drug interactions for all of them, regardless of who prescribed them. You should still let the pharmacist know about over-the-counter medications, herbs, and supplements — including CBD — that you don't get through the pharmacy. It is important to bring the CBD product to your doctor and pharmacist so they can check the amount of CBD and other ingredients it contains," says Dr. Bemben.
What kind of drug interactions can happen with CBD?
One source available to patients is drugs.com, where you can plug in either cannabidiol (which will give you the FDA-approved oral product Epidiolex) or cannabis (which will give you both THC and CBD) and check for possible interactions with other medications you take.
CBD is thought to act on certain receptors in your brain and other parts of the body, in ways that could relieve pain, or help certain health conditions, like childhood seizure disorders. However, as with any "natural" product, the fact that it comes from plants doesn't automatically render it innocuous. For some people, particularly those taking certain prescription medications, using CBD is risky. It has anticoagulant effects that can thin blood; it can also modestly lower blood pressure. These effects could be dangerous for people with certain medical conditions.
Are the concentrations in commercially available CBD high enough to cause this interaction? The evidence doesn't really say one way or another. Dr. Alloway's research involved a high dosage of CBD that wouldn't be found in a retail product. However, it "highlights that a drug interaction is there," she says. Plus, tacrolimus is metabolized in the body by a group of enzymes called cytochrome P450 and CBD is a known inhibitor of this process. What does that mean? If CBD inhibits the metabolism of tacrolimus, the patient can end up with too-high levels of tacrolimus in the body. In light of this, she urges anyone taking tacrolimus to speak with their transplant team before using CBD. Don't get your hopes up, though—using herbal remedies, particularly those with potential interactions, is generally frowned upon by doctors looking after transplant recipients (including Dr. Alloway).
Is CBD marijuana?
"Herbal products are drugs," says Rita Alloway, Pharm.D. , research professor of nephrology at the University of Cincinnati College of Medicine. "Just because [something] is herbal … doesn't mean it can't interact with any of the pharmaceutically manufactured drugs that you may be taking."
Does CBD interact with medications?
If you've visited a store that sells health and beauty products lately, you may have noticed that products containing CBD, or cannabidiol, seem to be all the rage. Oil, chocolate, supplements, even carbonated beverages, are filling up shelves—enticing shoppers with claims that using one of these products will cure insomnia, alleviate anxiety, reduce inflammation, or treat PTSD.