Share
Discover the Healing Powers of Cannabis and Medicinal Mushrooms to Enhance Health and Wellness Every Day, Whether you're "CBD-curious" or ready to go beyond the basics with cannabis and medicinal mushrooms, this science-based and supportive resource is the best hands-on user's guide to these powerful healing plants and fungi. Inspired by her own quest to help her father manage the side effects of chemotherapy, health coach Jenny Sansouci presents everything you need to know to address everyday issues as well as more serious health concerns. In The Rebel's Apothecary, you'll find simple protocols, delicious recipes, daily rituals, and dosing information backed by the latest research, all designed to deliver healing results safely, without an unwanted high. Book jacket.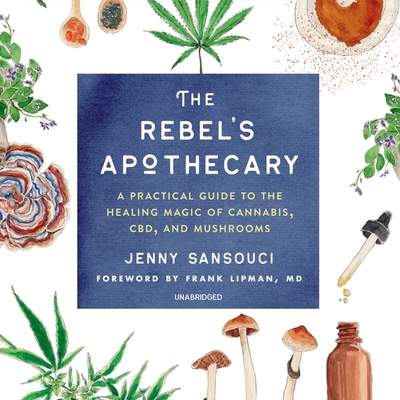 Golden Lab Bookshop | Queens, NY
When health coach and wellness blogger Jenny Sansouci learned that her father was diagnosed with stage four pancreatic cancer, her extensive knowledge of the latest alternative therapies was put to the test. Jenny dove into the world of cannabis and mushrooms and their medicinal properties–and she and her dad are now outspoken champions of the healing power of these plants and fungi–not only to tame the side effects of chemotherapy, but to address everyday wellness concerns. The Rebel's Apothecary is the result of her heartfelt and rigorous quest–a science-based and supportive guide that will enhance the lives of anyone living with pain, anxiety, depression, a weakened immune system, insomnia, and more. Complete with background information, dosing instructions, and everyday recipes, this is the essential handbook for harnessing the ancient healing powers of cannabis and mushrooms–safely, without confusion, fear, or an unwanted high. In addition to debunking myths and destigmatizing these powerful healing plants and fungi, The Rebel's Apothecary presents:
Learn how to improve mental health and general wellness with the medicinal magic of cannabis and mushrooms–from CBD oil to elixirs and gummies to THC dosing.
Specific protocols and dosage guides for wellness uses (mood, sleep, immunity, focus, energy) and managing common chemotherapy side effectsEveryday wellness routinesRecipes for delicious, easy, health-enhancing cannabis and mushroom infused smoothies, coffee drinks, teas, elixirs, gummies, broths, and moreThe latest research on CBD, THC, medicinal mushrooms and psilocybinTips for creating a cutting-edge home apothecary of your own
See our curated collection of diverse and inclusive novels in person at: