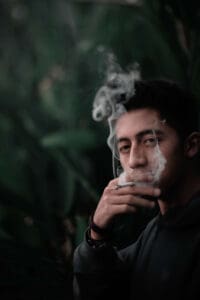 While there were some studies in the 1970s and 1980s that found marijuana could lower intraocular pressure, the real association between the drug and glaucoma treatment occurred due to a landmark medical marijuana court case in 1974.
Although CBD has more recently been associated with medical marijuana, the chemical that works on intraocular pressure is tetrahydrocannabinol (THC). This chemical has been shown to lower intraocular pressure by 60 to 65 percent in anyone, including people who have glaucoma. One study found that, over the course of marijuana's primary effects on the body, IOP lowered 25 percent overall. This could seem to help glaucoma patients, but it is not a long-term solution due how THC is metabolized.
The Science of Marijuana's Impact on Glaucoma
Ultimately, the best treatment for glaucoma keeps eye pressure in a healthy range all day. Eye drops and some forms of surgery can help to maintain lower eye pressure for months or years. Eye drops must be applied consistently, but they will be used less often than medical marijuana would need to be used, and they have fewer impactful side effects.
Medical Studies Show That Alternate Forms of Marijuana Can Cause Harm to the Eyes
Unfortunately, these newer methods of medical marijuana use do not work to lower intraocular pressure. A study found that eye drops containing THC did not lower intraocular pressure at all. Another study found that smoking marijuana lowered intraocular pressure, and the amount of cannabis ingested would lower IOP in measurable ways, but ingesting more cannabis would not lead to effects that lasted longer. The body still metabolized THC's peak effects in three to four hours.
Purpose: The purpose of this study was to assess the effect on intraocular pressure (IOP) and the safety and tolerability of oromucosal administration of a low dose of delta-9-tetrahydrocannabinol (Delta-9-THC) and cannabidiol (CBD).
Patients and methods: A randomized, double-masked, placebo-controlled, 4 way crossover study was conducted at a single center, using cannabis-based medicinal extract of Delta-9-THC and CBD. Six patients with ocular hypertension or early primary open angle glaucoma received a single sublingual dose at 8 AM of 5 mg Delta-9-THC, 20 mg CBD, 40 mg CBD, or placebo. Main outcome measure was IOP. Secondary outcomes included visual acuity, vital signs, and psychotropic effects.
Results: Two hours after sublingual administration of 5 mg Delta-9-THC, the IOP was significantly lower than after placebo (23.5 mm Hg vs. 27.3 mm Hg, P=0.026). The IOP returned to baseline level after the 4-hour IOP measurement. CBD administration did not reduce the IOP at any time. However, the higher dose of CBD (40 mg) produced a transient elevation of IOP at 4 hours after administration, from 23.2 to 25.9 mm Hg (P=0.028). Vital signs and visual acuity were not significantly changed. One patient experienced a transient and mild paniclike reaction after Delta-9-THC administration.
Conclusions: A single 5 mg sublingual dose of Delta-9-THC reduced the IOP temporarily and was well tolerated by most patients. Sublingual administration of 20 mg CBD did not reduce IOP, whereas 40 mg CBD produced a transient increase IOP rise.