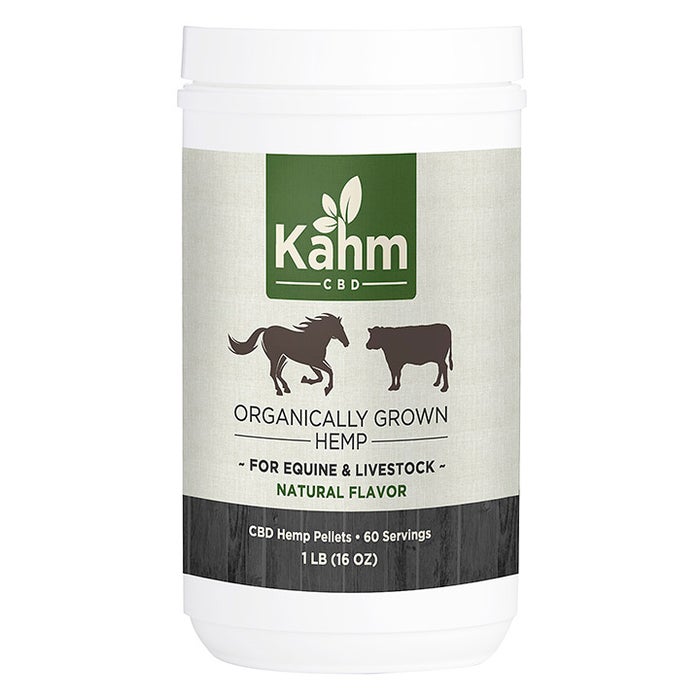 Improve your horse's overall health with the Kahm CBD Organic Hemp Pellets! While not a traditional equine supplement, hemp has shown the ability to ease joint pain and inflammation, support cardiovascular health, improve the condition of skin, coat, and hooves, and even act as a digestive aid. These impressive benefits come from the omega fatty acids that hemp contains, with a fatty acid profile similar to fish oil, making hemp an environmentally friendly alternative to this favorite omega-3 source. Hemp also provides high levels of vitamin C and E, along with a balanced amino acid profile. You can rest easy knowing that Plantacea hemp is never genetically modified and is grown organically, making this superfood a great option to try for your equine companion.
Key Features:
When beginning CBD, it's best to start with the smallest dose possible and gradually work up. For some horses, results are seen with one scoop while others may need up to five scoops per serving. Improvement can be seen immediately for some conditions while others may take a bit longer.
Product Details
Note: Kahm has pelleted their hemp for ease of giving to equines, and other animals benefit from CBD as well; i.e., goats, sheep, swine, llamas, rabbits, and dogs. Because it is the whole plant, other cannabinoids are present as well giving your animal a better full spectrum product.
Over 1500MG Active PCR organic hemp extract formulated for horses of all sizes (Dosing guide and calculator)
PCR Hemp Extract Meal
16 tbsps contain 400mg of PCR
How can Equine Hemp Pellets Help My Horse?
16 tbsps contain 400mg of PCR