Sunday November 18th
The Thirteenth meeting of the Conference of the Parties (COP 13) was held in Cancun, Mexico, in December 2016. The Fourteenth meeting of the Conference of the Parties (COP 14) will be held in Sharm El-Sheikh, Egypt, 17 – 29 November 2018.
Saturday November 17th
The United Nations Biodiversity Conference will be held from 13 – 29 November 2018 in Sharm El-Sheikh, Egypt.
Multimedia
Wednesday November 21st
​ Saturday November 17th
Tuesday November 20th
CEESP News: by Nigel Dudley and Sue Stolton, Equilibrium Research * Under current proposals from the Convention on Biological Diversity, a target is likely to be set for 30% of the world's land surface to be set aside into protected and conserved areas. Over 60 countries have pledged to meet this even ahead of the CBD Conference of Parties, and a significant number are already at or above this level. What are the wider implications of setting aside such a huge area for conservation? Two new reports look at some of the possible wider benefits.
Understanding the multiple benefits of area-based conservation
Photo: IUCN
Why nature needs an ambitious recovery plan
Jonny Hughes: A new global plan for nature is under development in Sharm el-Sheik, Egypt this week where governments from around the world are meeting at the Convention on Biological Diversity.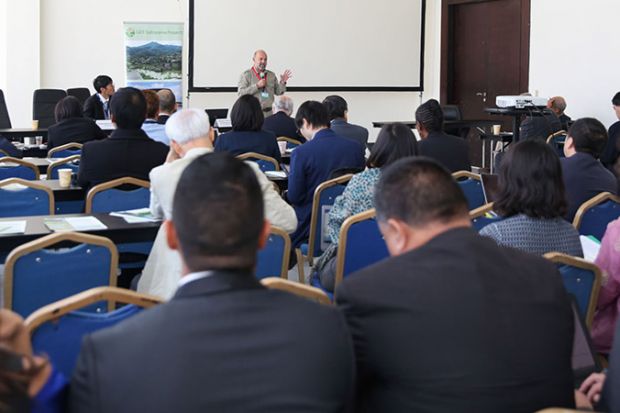 UNU-IAS staff also contributed as presenters and panelists at: "The Nature and Culture Summit: Biological and Cultural Diversity for Biodiversity and Human Resilience Achieving the Sustainable Development Goals and the Paris Agreement", related to UNU-IAS ongoing work with the UNESCO-CBD Joint Programme on Linking Biological and Cultural Diversity and following up on the 2016 1st Asian Conference on Biocultural Diversity organized in part by UNU-IAS Operating Unit Ishikawa/Kanazawa (OUIK); the 6th Global Biodiversity Summit of Local and Subnational Governments: Mainstreaming Biodiversity for Urban and Regional Development; and the Rio Conventions Pavilion day on "Agriculture and Biodiversity: walking hand-in-hand toward a sustainable world".
UNU-IAS organized two side events in collaboration with partners: "Socio-Ecological Production Landscapes and Seascapes for Biodiversity and Livelihood: Roles in Post-2020 Global Biodiversity Framework" on 17 November, featuring a keynote address by Prof. Kazuhiko Takeuchi; and "Consolidation and Replication of Effective Landscape Approaches for Biodiversity Conservation and Human Livelihoods" on 19 November. Both events focused on different aspects of the work of the ISI project, particularly its contributions to CBD policymaking through the International Partnership for the Satoyama Initiative (IPSI).
As the CBD looks toward the end of the UN Decade on Biodiversity 2011-2020, UNU-IAS continues to contribute actively to the policymaking process and the achievement of the Strategic Plan for Biodiversity 2011-2020 and its Aichi Biodiversity Targets. UNU-IAS staff participation in the UN Biodiversity Conference 2018 also served as an opportunity to take part in preparatory processes to develop the Post-2020 Biodiversity Framework.