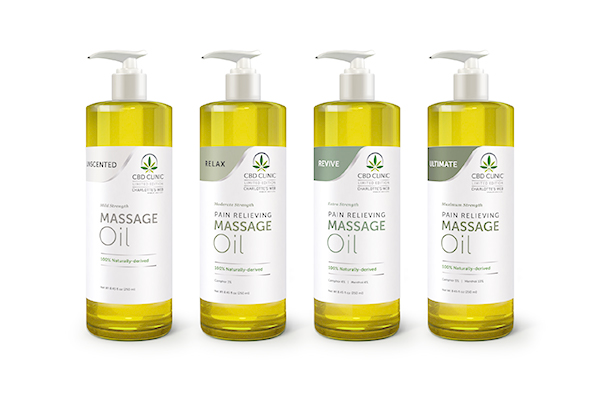 Jojoba oil: Jojoba oil is what's known as a carrier oil. It can moisturize in a similar way to our skin's own natural oils without blocking the skin pores. Jojoba oil is readily absorbable, and highly effective at carrying other topical healing ingredients with it. It provides excellent glide for massage.
CBD CLINIC™ Massage Therapy Series uses highly effective active natural ingredients (menthol and camphor) that distract the brain's pain signals at the source of discomfort with a cooling and heating sensation. Pain relief formulations range from mild to maximum strength. Our formulas are developed using a proprietary method for naturally derived remedies.
Menthol is an organic, natural compound derived from wild mint or peppermint leaves. It's what gives plants of the mint family their distinctive smell and taste. There are cheaper forms of menthol, which are synthetic and commonly used in OTC products, but CBD CLINIC™ uses only naturally sourced ingredients.
Menthol is a natural analgesic and anesthetic, which means it's soothing for your clients' aches and pains. In addition, menthol is what's known technically as a counterirritant. Menthol interacts with specific receptor sites in our nervous system known as TRP receptors. These nerve receptors are involved in our perception of temperature, and because of their famous association with menthol, they even go by the name cold and menthol receptors.
How does camphor work?
Camphor is also used as a topical analgesic and anesthetic. One study that looked at camphor and menthol in combination with other natural oils found they were effective at relieving mild to moderate pain and inflammation when applied to the skin several times a day consistently over time. Another study showed that camphor itself was effective at relieving back pain.
CBD CLINIC™ products have been created specifically for health-care professionals, to support their clients and their practice. They've developed formulas for personalized care blended with aromatic botanicals including lavender, frankincense, chamomile, arnica, peppermint, clove, sage, tea tree, and eucalyptus for relaxing, reviving, or ultimately restorative experiences.
Natural emollients, including jojoba seed oil, shea butter, cottonseed oil, and Charlotte's Web™ premium hemp extract, nourish the skin while offering a smooth glide in a non-greasy formulation.
What is menthol and where does it come from?
Camphor is another organic, natural compound that can be easily absorbed topically for a soothing effect. Camphor is extracted from the bark of the Cinnamonun camphora evergreen tree, or camphor laurel. Like menthol, its cousin in pain relief, camphor has a distinctive aroma as a result of the powerful plant terpenes it produces.
Menthol has been widely studied for its pain-relieving properties. Menthol is easily absorbed through the skin, which is why it's one of the major active ingredients in CBD CLINIC™ Massage products, along with other important ingredients that work together to give you the best topical pain relief you can find.
If you are a consumer or patient please visit this version.
Find additional resources
Adults and children 12 years of age and older: Apply to affected area not more than 3 to 4 times daily. Children under 12 years of age: Ask a doctor.
CBD CLINIC – MASSAGE OIL – LEVEL 1- camphor oil

Camphor – Topical Analgesic
Cotton Seed Oil, Hemp Extract, Jojoba Oil (organic)
Updated May 15, 2017
For external use only. Do not use on wounds or damaged skin. When using this product – avoid contact with eyes or mucous membranes – do not bandage tightly or use with heating pad. Stop use and ask a doctor if – condition worsens or symptoms persist for more than 7 days – symptoms clear up and occur again within a few days – excessive skin irritation develops.
RxNorm
Level 3 NET WT 12 OZ
Due to inconsistencies between the drug labels on DailyMed and the pill images provided by RxImage, we no longer display the RxImage pill images associated with drug labels.
Keep out of reach of children.
Camphor, Menthol – Topical Analgesics
Adults and children 12 years of age and older: Apply to affected area not more than 3 to 4 times daily. Children under 12 years of age: Ask a doctor.