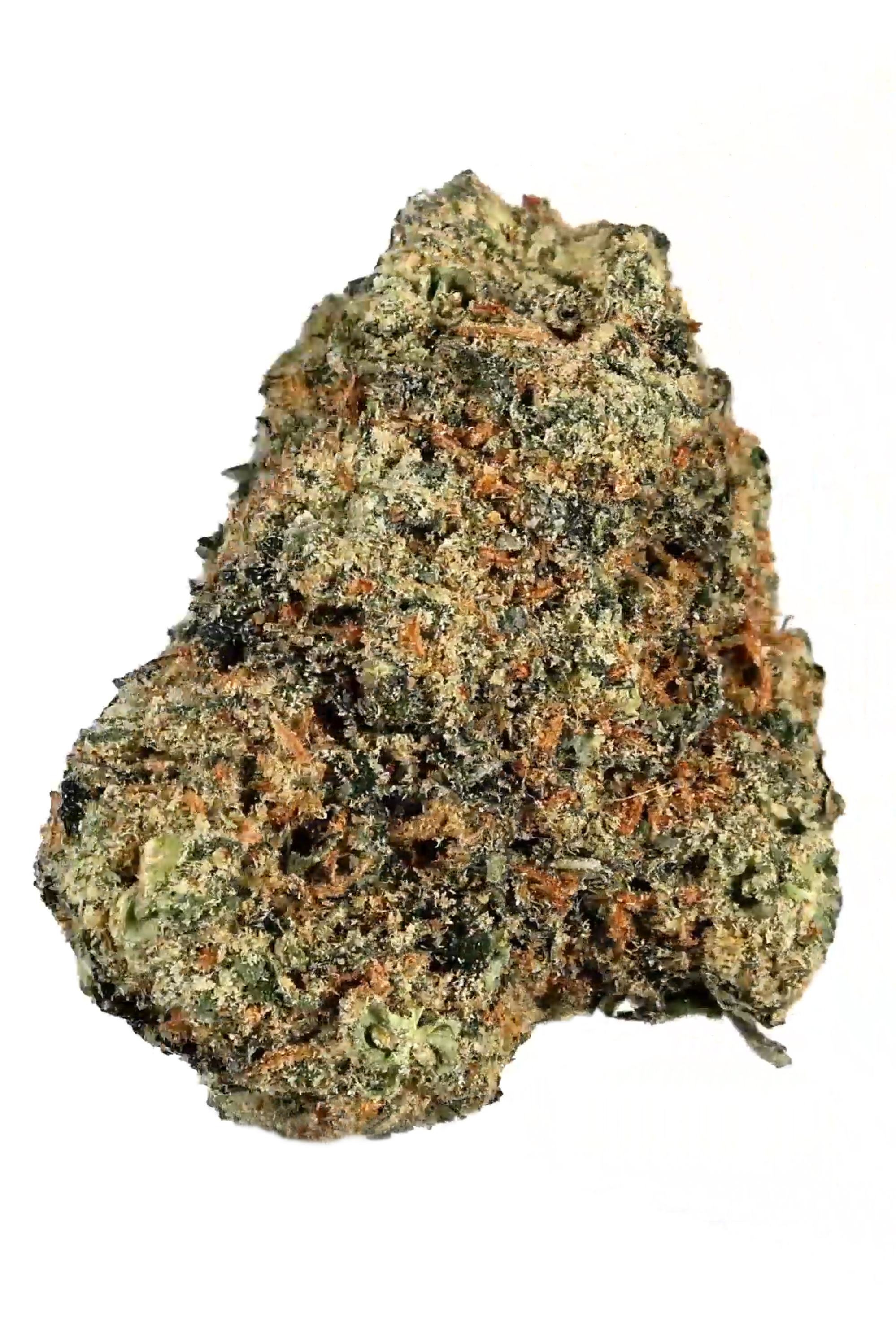 This skunky yet fruity indica-dominant hybrid leaves an indulging, sweet aftertaste on the palate once consumed. Like its name suggests, Blueberry has a delicious taste and aroma of ripe blueberries. It's known for its beautiful hues of purples and indigos, with patches of white trichomes covering its calyxes surrounded with golden hairs.
This potent strain is known to boast average THC levels at around 20%. Its high is known to last up to 3-4 hours while placing you in a sedative state, meaning you will get comfy and not want to move. Consumers of this strain have said mood definitely improves, allowing negativities to disappear as both body and mind slip into a peaceful euphoria. Reviewers have also noted it can be pretty difficult to hold conversations and be social when using this strain, so ensure you'll be in a comfortable environment after consuming Blueberry.
Blueberry's parent strains are a cross between the indica Afghani and two sativas of Thai and Purple Thai. It first emerged in the late 1970s and is the brainchild of the breeder DJ Short. Becoming quite popular all over the world, Blueberry has been recognized for its potent effects by winning the High Times 2000 Cannabis Cup for Best Indica.
Common terpenes found in Blueberry include Beta-Caryophyllene, Alpha Humulene, Alpha Pinene, and Beta Myrcene. With a flowering time of about 8 weeks, this strain is recommended to be grown outdoors.
If you love blueberry weed but you're off the THC for awhile, pick up Blueberry CBD marijuana seeds. Pain and stress will run for the hills in the face of this fruity strain that's good to grow indoors and out.
As sweet and fruity as its name suggests, Blueberry CBD is all about boosting the mood, but more importantly, although it has a equal ratio of THC: CBD, the psychoactive side effects are balanced out by the non-hallucinogenic cannabinoid to provide a euphoric high without any intoxication. You can see why patients from across the globe might find this strain so attractive.
Description
While Blueberry marijuana seeds are already highly sought after for their clinical applications, our CBD-rich alternative to this popular recreational strain boosts the therapeutic strengths of the traditional indica variety, creating an all-natural and viable treatment unlike any other.
A cross between Afghani, Thai, and Purple Thai strains, our feminized Blueberry CBD marijuana seeds are geared more towards the Intermediate grower with a little experience. The plants tend to reach a medium height when grown indoors and can yield up to an impressive 500 grams of flower per square meter.