The amazing compound could be effective in calming irritated skin and combat visible signs of aging, and it's a potentially powerful way to combat outbreaks. So, it's easy to see why starting your private label skincare brand with CBD is a smart choice!
But how does CBD impact your skin? Well, it turns out CBD has the same receptors as our skin, and this is why our skin responds well to it. It's believed to work by stimulating our skin's cannabinoid receptors to better regulate inflammation, bacteria and lipid production. Moreover, it's believed to regulate the release of histamine as well as skin cell proliferation, which causes skin conditions like psoriasis.
Are you looking for a CBD private label? Are you looking for the highest purity and quality of this amazing ingredient? Well, l ook no further, because we've got you covered!
What is CBD?
Cannabidiol is one of the non-psychoactive phytocannabinoids found in the Cannabis Sativa plant species. Don't confuse it with THC, the psychoactive compound in cannabis. The use of Cannabidiol, or CBD, in cosmetic products is getting increasingly popular, as the sales of these products exceeded $ 390 million in 2018.
In 2022, sales are expected to reach $ 22 billion. And a large chunk of that will come from beauty products!
A question that is often asked is: what's the difference between Hemp seed oil and CBD oil? Hemp oil is pressed from the seeds of the hemp plant and is popular in skincare for it's moisture-binding properties. The oil isn't very comedogenic, so you can find it in products aimed at skintypes that easily break out. This type of oil doesn't contain CBD.
Hemp and CBD oil differences
When we look at CBD oil, it contains a high content of CBD and is more viscous in consistency. Rather than being made from the seeds of the plant, CBD oil is pressed from the both the plant's seeds and stalks. This makes CBD oil much more active and effective than using hemp oil alone. But, studies have shown that CBD proved to be more effective when used along with other compounds of the cannabis plant, like hemp seed oil. In our products, we use Dutch CBD oil of the highest purity and quality.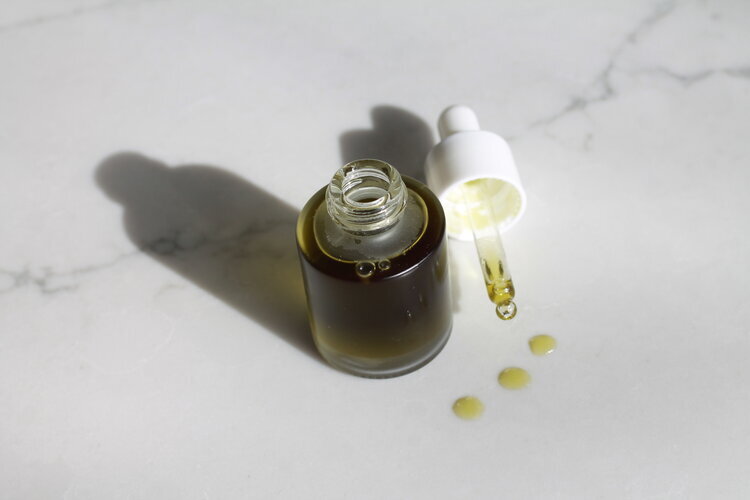 reducing inflammation (CBD's main game)
What about CBD Regulation?
It is the hemp extract containing CBD, THC, other cannabinoids and terpenes (though the THC is usually in trace amounts)
What's the difference between Full Spectrum CBD, Broad Spectrum CBD and CBD Isolate?
Are luxury, high-end CBD formulas that compete with top shelf products at retailers like Sephora.