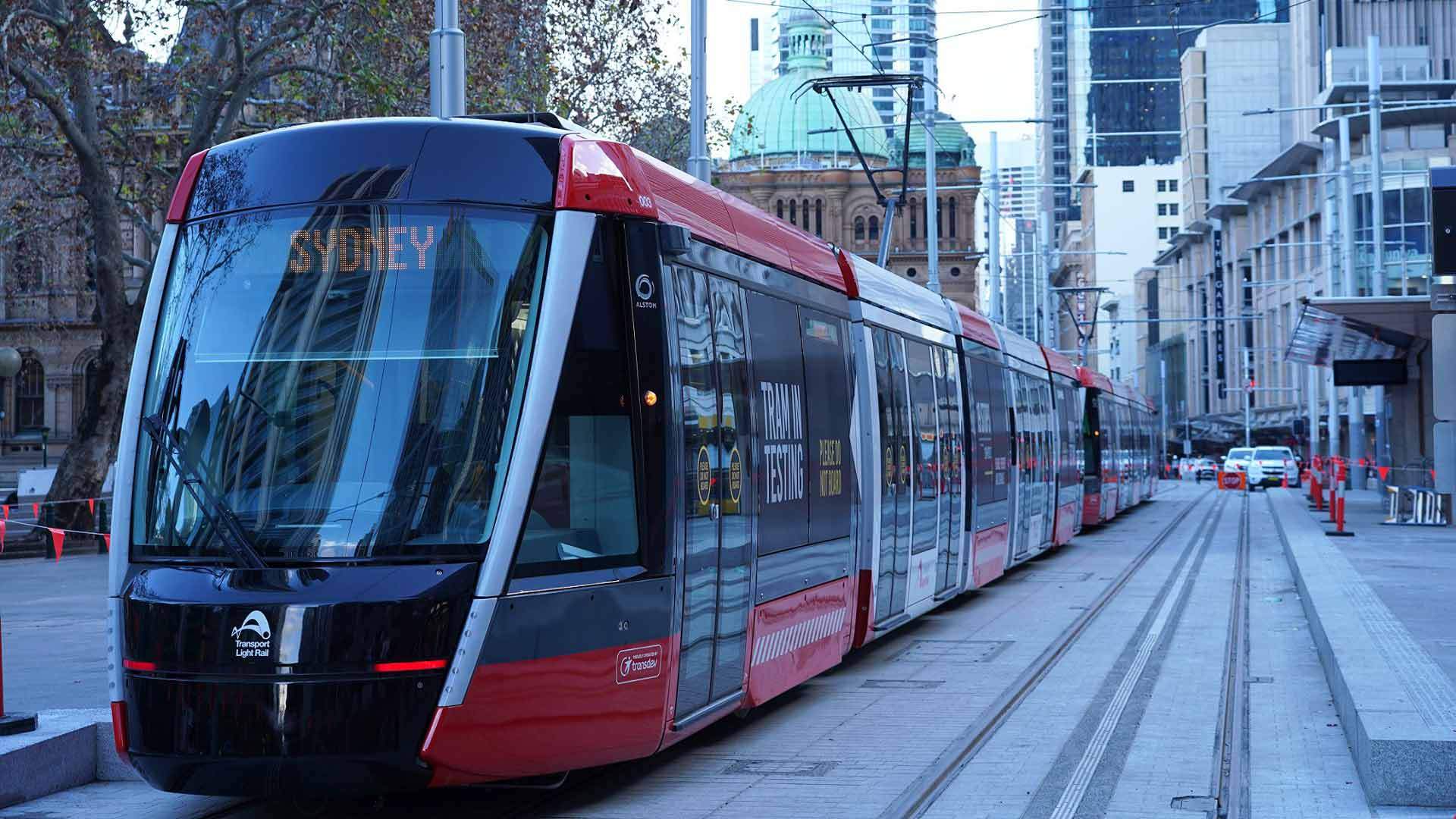 As many of are now working from home and cannot experience the new light rail, you can catch glimpses of it on this less-than-riveting live cam or watch some videos over on the Sydney Light Rail Facebook page. There's also this flashback to training of tram 'conductresses' back in 1942 from the Sydney Tramway Museum:
If you're not leaving the house for an essential reason, you risk getting a $1000 on-the-spot fine, with maximum penalties of $11,000 and six months in jail.
What seems like years ago, in a pre-COVID-19 time, the first stage of the Sydney's infamous light rail project opened to the public on Saturday, December 14, 2019. Now, the final piece of the puzzle — something I'm sure you're all well acquainted with at the moment — has been put into place, with trams on the final stretch taking passengers from today, Friday, April 3.
To summarise the saga that was the CBD and South East Light Rail project: it was first announced back in 2012, construction began in 2015 and then faced legal stoushes, cost blowouts (to almost $3 billion) and delays galore, due to everything from awry overhead wires and a discovery of thousands of Indigenous artefacts. It was initially meant to be completed in early 2019, but that was pushed out to March 2020.
The new L3 Kingsford Line runs from Circular Quay to Kingsford, via Kensington and Anzac Parade, while the L2 runs from Circular Quay to Randwick. Trams on both lines will continue operating from 5–1am daily, with services every 4–8 mins in the CBD and 8–12 mins in the south east from 7am–7pm, for the time being.
It's not the first time trams have run through Sydney's CBD — just the first time in almost 60 years. The old tram tracks were ripped up back in 1961.
Tram conductress training in 1942.mp4 Flashback Friday ⏲ – we've come a long way with tram technology since 1942 (and humour ). World War II led to the first employment of 'conductresses' in Sydney. This newsreel from the time shows them being trained. Thanks to Sydney Tramway Museum for the vision. Posted by Sydney Light Rail on Thursday, 21 November 2019
Commuter services are now running on both the L3 Kingsford and L2 Randwick Lines, with more info available via the Transport for NSW website.
Rail Planning Services worked as the Interface Manager between the project and Sydney Trains / TfNSW Infrastructure Stakeholders. The role includes ensuring Sydney Light Rail construction activities affecting the TfNSW and Sydney trains' assets are completed in accordance with the asset owners' requirements.
The CBD & South East Light Rail plays a key role in enabling Sydney's transport future by transporting thousands of customers between Sydney's Inner West suburbs and Central, and between the CBD and Randwick or Kingsford in the South Eastern suburbs. The project involved the construction of 12km's of new track including 20 new stops, a stabling facility at Randwick and a new maintenance facility at Lilyfield.
Our team provided mentoring to construction staff around the applicable requirements, including working in close proximity to HV services, coordinating key Authorised ST resources, corridor access, easements and notifications while ensuring the necessary stakeholders are aware of the processes being followed, calling upon strong meditation requirements to make certain a best for all resolution is achieved.