Those dealing with Parkinson's disease may also have trouble sleeping due to REM sleep behavior disorder (RBD), a condition in which patients 'act out' their dreams while asleep. A study published in the Journal of Clinical Pharmacy and Therapeutics found that four patients with Parkinson's disease who also suffered from RBD had a decrease of RBD symptoms during sleep with the use of CBD.
In connection with Parkinson's disease as well as other movement-related disorders, CBD may help improve motor skills. In one study published in Frontiers in Pharmacology CBD was shown to have a more preventative role in delaying abnormal movement symptoms in animal models of Parkinson's.  
Research
With the legalization of medical marijuana, many states are approving the use of it in a non-traditional way to treat the symptoms of certain conditions, including Parkinson's disease. Marijuana has two major components to it—tetrahydrocannabinol (THC) and cannabidiol (CBD). Both may help with nausea and muscle pain or spasms, but unlike THC, CBD doesn't give you the "high" feeling marijuana is most commonly known for. This makes it an enticing, natural way for many to help treat their Parkinson's disease symptoms. What's more, is that because CBD is a natural compound from the Cannabis sativa plant, using it may also leave you side effect-free, unlike many prescription medications.
In some cases, people suffering from Parkinson's disease may also have symptoms of psychosis, ranging in hallucinations to vivid dreams and illusions. Research has found that CBD may be able to help. In research out of University of São Paulo in Brazil, patients were given a dose of CBD starting out at 150 milligrams (mg) per day in addition to their current treatment plan of therapy for four weeks. The use of CBD showed no adverse effects, no impact on worsening motor function, and a decrease in their reported psychosis symptoms, meaning that not only can it help with the physical setbacks of Parkinson's disease, it can also play a part in the cognitive challenges as well. This was however an older study and current clinical trial evidence to support the use of CBD is minimal.
The benefits and research around CBD are still emerging
More research out of Brazil suggests CBD can improve the overall quality of life of those with Parkinson's disease. In a sample of 21 patients, those who were treated with 75 mg to 300 mg of CBD per day reported a significant increase in quality of life, though no significant differences were noted in motor and general symptoms or neuroprotective effects. This goes to show how much results can vary when it comes to the effects of CBD, requiring larger studies to be done in order to get more definitive answers to this treatment option.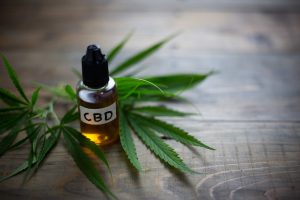 Do you have a question or issue that you would like Dr. Gilbert to explore? Suggest a Topic
DISCLAIMER: Any medical information disseminated via this blog is solely for the purpose of providing information to the audience, and is not intended as medical advice. Our healthcare professionals cannot recommend treatment or make diagnoses, but can respond to general questions. We encourage you to direct any specific questions to your personal healthcare providers.
It is not just the Parkinson's disease community that has taken an interest in CBD. There are countless health claims that CBD is helpful for a whole host of conditions. Clinical trial evidence to support the use of CBD however, is minimal. The only FDA-approved indication for CBD is to reduce seizure frequency in certain rare and severe forms of childhood epilepsy. A purified form of CBD, sold under the brand name Epidiolex® was tested in a well-designed clinical trial in order to gain this approval. (Three other cannabis related drug products that are not CBD, but rather synthetic THC, also have FDA approval and are used to treat loss of appetite and weight loss in patients with HIV, and severe nausea and vomiting due to chemotherapy).
We also don't know the side effect profile of CBD in people with PD. At baseline, people with PD may have various non-motor symptoms that may make them more prone to side effects from CBD, including fatigue and nausea.
Using CBD for treating Parkinson's disease symptoms
There have been a few studies of CBD for various symptoms of PD which have generally involved a small number of patients. Many have been open-label trials, in which the doctor and patient are both aware that the patient is receiving treatment and there is no control group that received a placebo.
More recently, I have received many inquiries specifically about the use of cannabidiol or CBD, for symptoms of PD. So today I'll take a more in-depth look at CBD to help you better understand what it is and its possible use for symptoms of PD.
Without clinical trial data however, we do not know whether CBD is safe and effective for a particular symptom, and if it is, what CBD formulation and dosage is best to be used for a particular symptom.
Subscribe to get updates from APDA
For all the other health claims, there is not enough clinical trial data to allow the FDA to state whether or not CBD is effective. And there definitely is not enough data to support the use of one type or formulation of CBD over another.
Additionally, three more recent trials of CBD for PD were conducted.