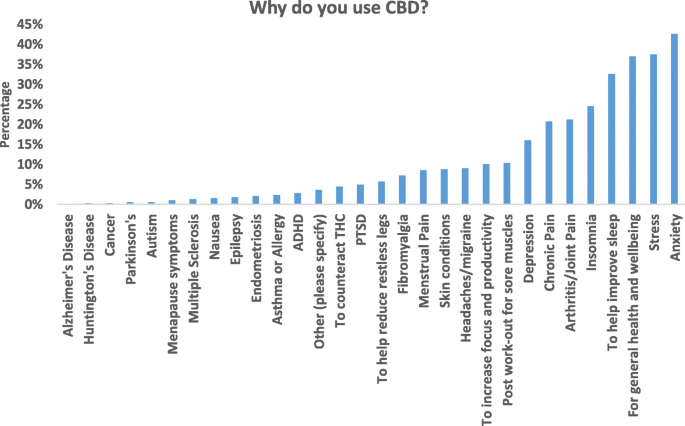 A cross-sectional study of 2409 cannabidiol users from the USA found that the top three medical conditions reported were chronic pain, arthritis/joint pain, and anxiety, followed by depression and insomnia (Corroon and Phillips 2018). A recent survey carried out by Wheeler et al. of 340 young adults, some of whom were CBD users, found the top reasons to be stress relief, relaxation, and sleep improvement. They found edible CBD products to be the most prevalent (Wheeler et al. 2020). Another study of 400 CBD patients in New Zealand observed an increase in overall quality of life, a decrease in perceived pain, depression, and anxiety symptoms, as well as an increase in appetite and better sleep (Gulbransen et al. 2020).
Methods
When used in high doses, somnolence is a primary adverse effect (Machado Bergamaschi et al. 2011). Patients in CBD clinical trials were more likely to experience sedation (OR 4.21, 95% CI 1.18–15.01) and somnolence (OR 2.23, 95% CI 1.07–4.64) in comparison to placebo (Chesney et al. 2020). Despite this preclinical and experimental research, there is a lack of human clinical trials to establish the efficacy and appropriate CBD indications fully. The effective dose for most of the above indications is still to be determined. In much of the research, high doses of CBD are used (between 300 and 1200 mg), whilst at the same time, globally, millions of CBD users are using low dose CBD. Thus, a disconnect exists between clinical research and the current state of the market.
Introduction
To access actual CBD users, we collaborated with four different CBD brands and retailers (TheDrug.Store, OTO CBD, With Pollen and Grass & Co.), based in the UK, who sent out the survey to their email databases. The survey was sent out to 14,743 unique email addresses. Two thousand five hundred thirty-four were opened and 475 clicked through to the survey. We also shared the survey with CBD user groups on social media channels like Facebook and LinkedIn. We did not collect any personal data or IP addresses. Ethical approval was not required since this research investigated non-sensitive information using anonymous survey procedures with participants not defined as "vulnerable". In addition, participation was deemed unlikely to induce undue psychological stress or anxiety based on ethics committee guidelines (UCL REC n.d.).
Formal studies on efficacy and dose finding are much needed. Some urgency exists, given the explosion of lay interest in this topic and the rush to market these compounds. Current understanding of the physiology and neurologic pathways points to a benefit with anxiety-related issues. The results of our clinical report support the existing scientific evidence. In our study, we saw no evidence of a safety issue that would limit future studies. In this evaluation, CBD appears to be better tolerated than routine psychiatric medications. Furthermore, CBD displays promise as a tool for reducing anxiety in clinical populations, but given the open-label and nonrandomized nature of this large case series, all results must be interpreted very cautiously. Randomized and controlled trials are needed to provide definitive clinical guidance.
Deidentified patient data were evaluated using descriptive statistics and plotted graphically for visual analysis and interpretation of trends.
Table 1 provides means and standard deviations for sleep and anxiety scores at baseline and during the follow-up period for adults taking CBD. Figure 1 graphically displays the trend in anxiety and sleep scores over the study period. On average, anxiety and sleep improved for most patients, and these improvements were sustained over time. At the first monthly assessment after the start of CBD treatment, 79.2% (57/72) and 66.7% (48/72) of all patients experienced an improvement in anxiety and sleep, respectively; 15.3% (11/72) and 25.0% (18/72) experienced worsening symptoms in anxiety and sleep, respectively. Two months after the start of CBD treatment, 78.1% (32/41) and 56.1% (23/41) of patients reported improvement in anxiety and sleep, respectively, compared with the prior monthly visit; again, 19.5% (8/41) and 26.8% (11/41), respectively, reported worsening problems as compared with the prior month.
In an outpatient psychiatric population, sleep scores displayed no sustained improvements during the 3-month study. Anxiety scores decreased fairly rapidly, and this decrease was sustained during the study period. These results are consistent with the existing preclinical and clinical data on CBD. CBD was well accepted and well tolerated in our patients. Side effects were minimal (mainly fatigue) and may be related to dosing.
CONCLUSION
Side effects and tolerability of CBD treatment were assessed through spontaneous patient self-reports and were documented in case records. Any other spontaneous comments or complaints of patients were also documented in case records and included in this analysis.
Sleep and anxiety were the targets of this descriptive report. Sleep concerns were tracked at monthly visits using the Pittsburg Sleep Quality Index. Anxiety levels were monitored at monthly visits using the Hamilton Anxiety Rating Scale. Both scales are nonproprietary. The Hamilton Anxiety Rating Scale is a widely used and validated anxiety measure with 14 individual questions. It was first used in 1959 and covers a wide range of anxiety-related concerns. The score ranges from 0 to 56. A score under 17 indicates mild anxiety, and a score above 25 indicates severe anxiety. The Pittsburg Sleep Quality Index is a self-report measure that assesses the quality of sleep during a 1-month period. It consists of 19 items that have been found to be reliable and valid in the assessment of a range of sleep-related problems. Each item is rated 0 to 3 and yields a total score from 0 to 21. A higher number indicates more sleep-related concerns. A score of 5 or greater indicates a "poor sleeper."
The treatment with CBD was in general well accepted, as judged by the clinicians' and patients' responses. Four patients declined CBD treatment because of religious or ethical concerns about the relation to cannabis. Nearly all patients easily provided informed consent once the nature of the treatment was explained. Most patients appreciated the opportunity to try something natural and avoid further or initial psychiatric medication use.
Main Outcome Measures
Mean anxiety and sleep scores for adults using cannabidiol treatment.
Nearly all patients were given CBD 25 mg/d in capsule form. If anxiety complaints predominated, the dosing was every morning, after breakfast. If sleep complaints predominated, the dosing was every evening, after dinner. A handful of patients were given CBD 50 mg/d or 75 mg/d. One patient with a trauma history and schizoaffective disorder received a CBD dosage that was gradually increased to 175 mg/d.