Store away from heat, light, and humidity to preserve freshness.
Blue Bird Companion CBD oil contains only the full-spectrum hemp oil extract made from organically grown industrial hemp in a hemp-seed oil base. Bluebird CBD for dogs and cats contains less than the legal limit of 0.3% of THC and is totally non-psychoactive. Your animal companions can enjoy all the benefits of full-spectrum CBD without the worry of any psychoactive effects. Full Spectrum simply means that all the compounds occurring in the hemp plant are retained in the oil – just as nature intended! You can be assured your fur babies are getting the best!
Bluebird Botanicals is a quality manufacturer working directly with farms here in the USA. They offer batch testing data on all their products. In the hemp industry, Bluebird Botanicals is one of the leading producers of oils produced from industrial hemp. The company has distinguished itself in the hemp and cannabis industry by providing products made with the highest-quality ingredients available, and by demonstrating its commitment to the environment by adhering to strict business practices that include using only biodegradable shipping materials (i.e. cornstarch "peanuts"), printing receipts on biodegradable paper, and dealing solely with farms who practice sustainable farming. They keep imports to minimal levels and believe strongly in the concept of sustainable business practices and products across the board. This brand is a natural, organic option with a simple list of ingredients There are never any flavors or unwanted additives in Bluebird Botanicals products.! Bluebird Botanicals CBD Oil uses Virgin Hemp Seed Oil as a base for its proprietary CBD blend. It is rich in antioxidants and omega fatty acids. Hemp Classic Oil is one of the most nutritious and complete CBD oil products, perfect for those who seek a balanced endocannabinoid system.
Serving Sizes: We normally recommend starting with 1 mg per every 10 pounds to start.
How to Use Bluebird CBD Oil for Dogs and Cats:
As a supplement, mix 5 or more drops into food or apply directly into your pet's mouth, once or twice daily, or as directed by your veterinarian. Shake well before using and store away from direct sunlight and heat. Consult your vet if your pet is pregnant or lactating before introducing the CBD drops in their daily diet.
Full-spectrum Hemp Oil Extract (+250 mg cannabinoids per fluid ounce – this is a 2 ounce bottle), Organic hemp seed oil.
We're big fans of the Bluebird Botanicals line. It includes great tasting gummies, softgels, a heating and cooling sport lotion and really effective pet products. If you'd like to learn more about Bluebird CBD Oil, we can help. Take a look at our Bluebird Botanicals CBD Review. Interested in more of their products? Take a look at the other options!
Why choose Bluebird Companion CBD oil?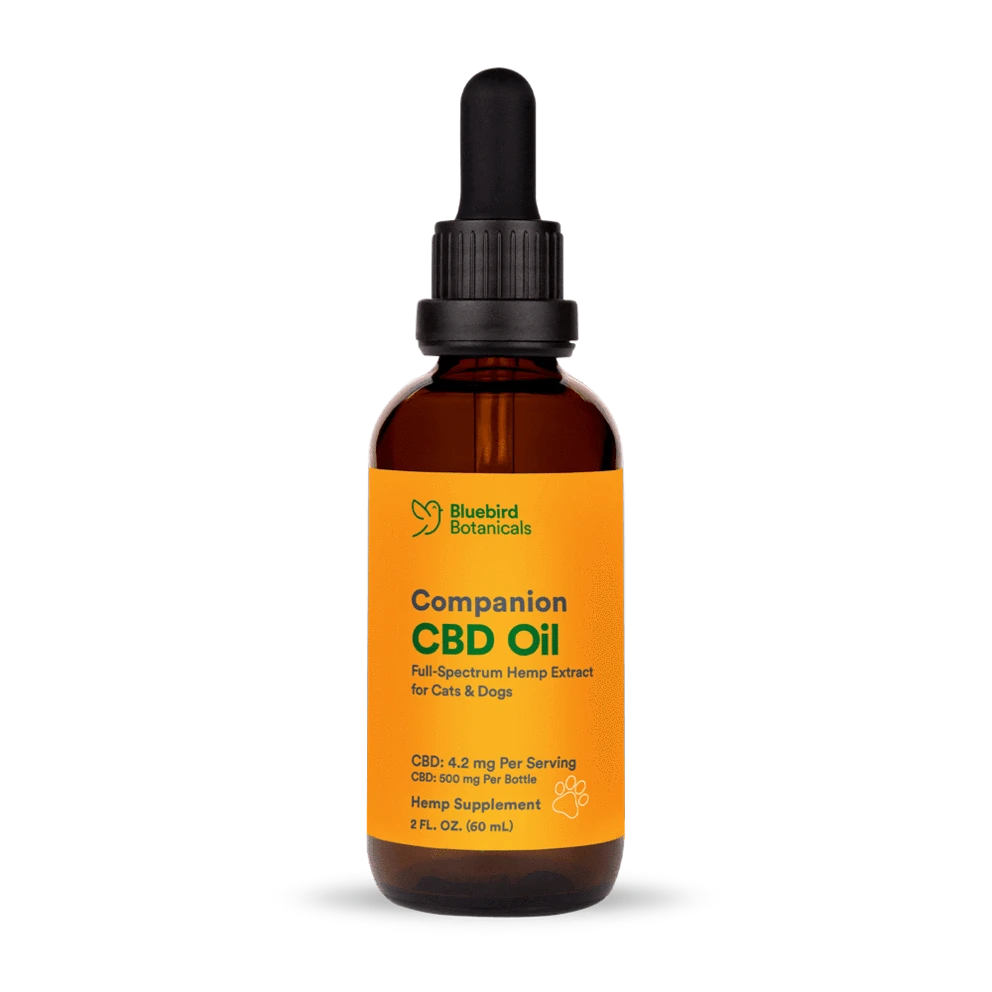 250+ mg cannabinoids per ounce. CBD hemp oil & organic hemp seed oil.
Description
Serving Size: 0.5 mL (approximately 15 drops)
Suggested Use:
If you have been thinking about using CBD oil for your pet, but wasn't confident that they would be able to consume a capsulated product, this Bluebird Botanicals companion CBD oil (1 oz, 250 mg) is made from a full spectrum hemp oil that contains various different cannabinoids and terpenes. It is beneficial for whole-body health, it can reduce зфшт in joints and help your pet deal with chronic pain. Since pets also have an endocannabinoid system such as we do, they can greatly benefit from supplementation that will help their body heal and feel its best. This product can be used to help your pet feel more youthful and healthy again.