For starter, the spanner crab was extremely fresh with avocado and it's sauce complementing it flawlessly and highlighting it's superb flavour. The veal schnitzel was moist and tender featuring a fried egg with a perfectly formed skin, which when broken, released a yoke of impeccable consistency and flavour; topped with capers and pickled anchovies the dish harmonised it's flavours and aromas faultlessly for an incredible sensory experience. The sorbets were flavoursome with a delicate balance to ensure the ultimate level of sweetness leaving the palette refreshed and giving the experience it's ultimate crescendo.
Housed in a gorgeous heritage-listed building on King Street, Bistrode is a lovely hatted restaurant which offers a variety of contemporary European cuisine. The conventional items on the menu were as simple and familiar as you would expect. There is no surprise and that might be the main reason for my disappointment.
+ 1 фото
+ 14 фото
Рейтинги "Bistrode CBD"
+ 16 фото
+ 17 фото
Scotch fillet with cafe de Paris butter was average , wish the butter has stronger flavour 🙂
Часто упоминается в отзывах
From the food, to the service and atmosphere, Bistrode CBD is sublime. With attentive and knowledgable servers and food cooked to perfection our dinner experience was outstanding.
I ordered some raw kingfish with finger lime, radishes and horse radish and a warm confit duck leg with glizzards and bacon. First, The sashimi was alright but the fish slices was a little too thick and uneven. Second, the confit duck leg was tasty and delicious. I liked how the crispy duck skin sticks to the well marinated duck meat and the savoury bacon and lentils certainly enhanced and improved the colour and texture of the dish.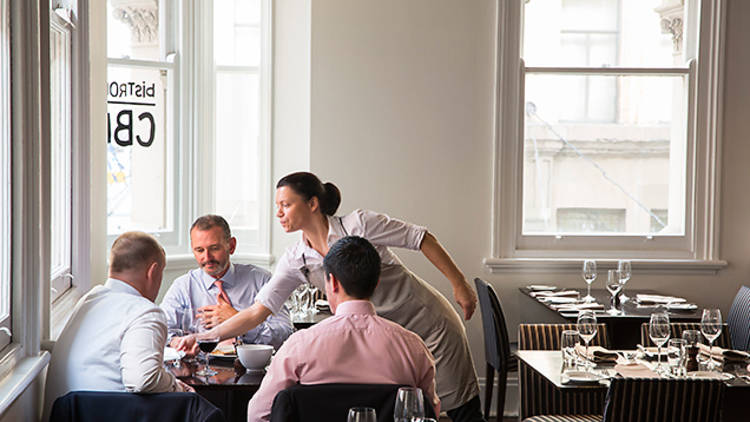 There are plenty of Bistrode favourites that have made the trek into the big, bad city, such as confit duck salad replete with duck's eggs and gizzards. Or how about some down-home comfort food such as corned wagyu beef with brown bread dumplings, mustard and horseradish? It's unbeatable if you're a little tender or just need feeding. We love that flank steak with red wine sauce and blobs of bone marrow, too. Make sure to get the chunky chips on the side to dip into the bone marrow – it's cardio-licious.
If you're dining with a few people and you've got your hunger on, you might consider the incredibly fragrant, sticky, sweet beef short rib curry with rice as a mid-course. We'll be heading back for the lamb for four. For dessert, there's the mandarin burnt cream – an English version of crème brûlée, only light and citrusy – a beautifully rich palate cleanser. Or go that Bistrode classic of the salty/sweet honey tart with peanut butter ice cream.
Bistrode CBD is the restaurant Sydney's been waiting for: classic British stylings in the stunning city dining room, with the floor being manned by Sydney hospitality legends Stephen Kirkpatrick and Howard Flanagan. On the menu is all the outstanding Brit-fare you've come to know and love at Bistrode in a whole new setting.
Downstairs, the pub services the local banker community (money may never sleep, but it sure likes to drink). There's a different menu downstairs, too. It's cheaper, a little more bistro-like, but still Strode-alicious. And best of all, it's just ace to see old-school pub staples on the menu: fish and chips, say, with a big pile of sweet, fluoro green mushy peas. The burger offers a wealth of pickles, tomato, lettuce and mayo and the eggplant lasagne is a cheesy lava stream of grilled eggplant, pasta and béchamel.
Where you'll fall in love on the plate is the likes of the 'Hearts and Minds' – probably the best named dish the world has ever seen. If you're not a big lamb's brains fan, it could be the dish to turn you around on the matter. Brain virgin? Make sure to take small bites and don't go all gung ho on the creamy little deep-fried orbs – they can be pretty confronting. The perfect bite combines brains, tender, sweet lamb's heart and bitter greens all in the one forkful.
Jeremy Strode, whose artfully simple cooking has encouraged a whole generation of young chefs with a less-is-more attitude to what goes on the plate, has taken over the Bistro CBD kitchen. But fear not, Bistrode-a-holics – the original little Surry Hills restaurant is still going, under the watchful eye of Jeremy's wife Jane.
Upstairs, of course, is where the real magic happens. The room is as crisp as a new white shirt with the framed black-and-white portraits of great European chefs such as Gordon Ramsey and Fergus Henderson staring down at you. And – little known fact – you can take the amazing winding staircase at the back of the bar up to the restaurant rather than slumming it in the lift.
Long live a restaurant that delivers simple, elegant food made and served with skill and finesse. Long live Bistrode CBD.