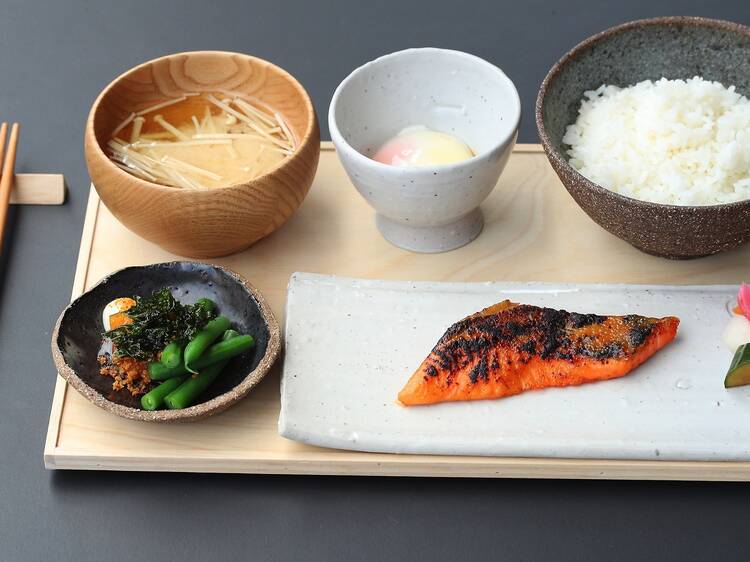 Of course if you're just after coffee here is the best coffee in the Melbourne CBD, and the best doughnuts to go with it.
Best cafés in Melbourne
Thanks for subscribing! Look out for your first newsletter in your inbox soon!
1. Ima Project Café
Get into a relationship with our newsletter. Discover the best of the city, first.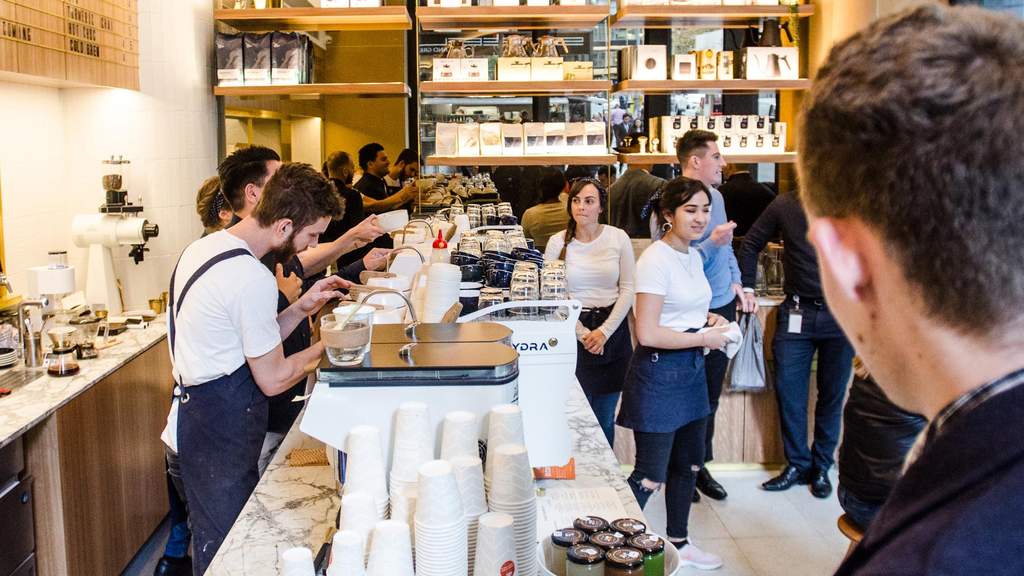 Given its location, the venue is filled with office workers on coffee breaks and suit-and-tie types taking meetings — but that doesn't mean this is any old CBD cafe. If you're in a pre-meeting rush, grab a coffee to go and pick a sweet treat from the glass case next to the counter — on any given day there might be anything from flourless chocolate brownies to hunks of caramel slice. Time to spare? Take your pick from a selection of bowls, salads, sandwiches and dishes.
Regiment is a busy glass-walled cafe smack-bang on the busiest part of George Street. You won't be able to escape the hustle and bustle here, but it's one of the best places in the CBD to enjoy a cup of coffee. Stepping in, you'll be greeted by two sleek white Synesso Hydras, warm lighting, blond wood, and a wall stacked with all the things you'll need to make a great coffee (here, courtesy of Five Senses).
When award-winning baristas get together to start their own cafe, you can bet that the coffee will be pretty damn good. Normcore Coffee Roasters, operated by Nate Lee and Chanho Hong, is just that. With a name taken from the anti-fashion trend, Normcore (a fusion of 'normal' and 'hardcore') serves up 'hardcore' blends for its lineup of single-origin black coffee and Normcore blends for customers who prefer their cuppa on the milkier side. Open Monday to Friday from 7am, the tiny cafe on Castlereagh Street is a perfect pitstop for a summery cold brew or warming espresso made from seasonal house-blended coffee. Plus, you can get stuck into a breakfast menu of smashed avo, toasties, and egg and bacon rolls. In addition to brunch favourites, there's a small lineup of soba salads and chicken and ham sandos to satisfy hungrier customers. With an industrial aesthetic and champion beans, the boutique roaster offers something for coffee experts and brunch lovers alike.
Coffee from two award-winning baristas
Image: Kimberley Low.
Start creating a personalised itinerary to your city here — or add to an existing list. Save it, share it and take it with you on your next local adventure.
REGIMENT
If you're looking for a way to cheer up your working week in the CBD, pop into June's Shoppe. This bright yellow cafe has friendly staff and a simple menu – think pastries, toast and open sandwiches. At brekkie, fuel up with the Top of the B&E: a mountain of fried egg, maple bacon, barbecue sauce and red Leicester cheese. Then, come lunch, tuck into a feast of wagyu bresaola, Branston pickle, rocket, hot mustard sour cream and ricotta salata. If you're looking for a sugar hit, there's the Nutella banana bread, loaded with the obvious spread, plus banana, spiced strawberry sauce and caramel popcorn.
Barrack Place is the CBD's new food and caffeine-filled laneway hangout. Inside, you'll find three spots serving top-notch brews, one of them being southwest Sydney coffee roastery St Dreux. Its second outpost is a pastel pink coffee oasis. It's serving up its own blends of beans as milky coffees, filter and nitro cold brew — a sparkling, nitrogen-charged coffee with the foamy head of a beer. Perfect for Sydney's balmy summer mornings (and afternoons).