High-end business service: there are over 200 world-class high-end service enterprises, including PWC, McKinsey & Co and Accenture, etc.
Located in the Chaoyang District of Beijing, the Beijing Central Business District (Beijing CBD) starts from the East 4th Ring Road in the east, reaches the Dongdaqiao Road in the west, abuts the Tonghui River in the south and adjoins the Chaoyang Road in the north. The State Council approved the Beijing City Master Plan in 1993, proposing "establishing a central business district covering finance, insurance, information, consultation, commerce, culture and business offices" between the East 2nd Ring Road and East 3rd Ring Road.
About managing company
The industrial and spatial forms of Beijing CBD have begun to take shape since 2000 when its construction was started, with increasingly complete modern business functions and enhanced international influence. After years of development, the CBD has now formed an industrial pattern that is led by international finance, dominated by high-end business and clustered with cultural media industry, becoming an area with the most headquarters enterprises and high-end service enterprises in Beijing.
Headquarters economy: there are over 150 enterprises in Fortune Global 500, including the Asia-Pacific headquarters or China headquarters of more than 50 multinational companies, such as Samsung, Shell, Alcoa, Volvo, Epson, Panasonic, Nissan, Prysmian and Canon, etc.
International finance: there are over 100 international financial organizations, including such world's top banks as Standard Chartered, Deutsche Bank, Bank of Montreal and Bank of East Asia, the Nasdaq and the New York Stock Exchange as well as the China offices of Moody's, Fitch and S&P, with the district now hosting the most financial organizations covering the most extensive categories in Beijing.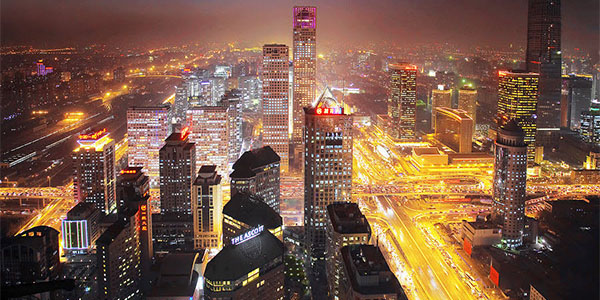 Most families residing in the CBD will elect to send their children north to the Lufthansa Area and its many schools there (or south to Shuangjing 's BCIS).
The CBD's cornucopia of shopping, dining, and nightlife options cover the gamut from the standard brands and fast food available to those of middle class means to those catering exclusively to the financially well-off. With a very wide selection of choices to pick from, amenities in the CBD feature something for just about everyone.
Because of the demand for living space here, prices in the CBD tend not to be cheap, and at the higher end, you pay for what you get, with some truly impressive apartments commanding truly impressive prices.
Fast food options such as McDonald's, Kentucky Fried Chicken, and Burger King (one of the few in Beijing), sandwich shop Subway, pizza chain Pizza Hut, and ice cream shops like Häagen-Dazs, Coldstone, and Dairy Queen
Location
Like most Westernized apartment complexes in Beijing, here you can expect to find:
Due to its very central location, the CBD provides relatively easy access to most parts of Beijing worth visiting, including the city's many shopping areas, restaurants, nightlife venues, and tourist attractions. While not home to many schools directly, the CBD is close enough to many of Beijing's international schools that it makes for an easy commute for the children of families residing here.
The CBD offers a wide range of amenities for Westerners, including:
Education
The China World Trade Center Mall , Fortune Plaza Mall , Yintai Center , and a plethora of shopping options with everything from clothing to computers for sale
The least expensive rent you're liable to find in the CBD is ¥8,000, for a studio apartment; the heart of downtown is not the place to make camp if you're on a tight budget. However, if you're on executive pay and can take advantage of the area's more top-shelf accommodations, you'll find that these can be up in excess – in the extreme cases – of ¥320,000. Normally, expect to pay monthly rents of ¥10,000 to ¥40,000 living in Beijing's Central Business District.