The taste of this CBD honey is unlike any other honey and is truly the best honey you will ever taste. The honey is harvested from rescued bees in Texas that collect their pollen from Texas wildflowers, and this is what gives it it's remarkable taste.
This creation from Bee Delightful is nothing short of amazing. This Canna Bees CBD Honey infusion is THC Free and comes in two strengths. This bottle contains a total of 250mg of CBD infused in fresh honey. Canna Bees is also available in a 500mg CBD Honey Infusion.
Bee Delightful is based in Austin, Texas and works to rehabilitate bees and help them create thriving hives. They take the finest quality wildflower honey, which is then carefully infused with 250mg of CBD to create a special honey blend.
Earlybird and Bee Delightful are both based out of Austin, TX. Our partnership with them allows us to receive the freshest honey available with new batches delivered to us once every other week. That means that you will receive the freshest and tastiest honey.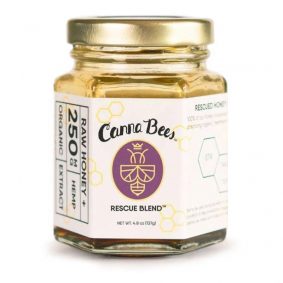 Bee Delightful states that all of its hemp is organically grown and processed in Colorado. However, this is the only information offered on the company website, which is unfortunate. We'd like to see more detailed information as well as third-party lab test results to prove its quality and purity.
Purpose/Uses 4/5
Bee Delightful Canna Bees Rescue Blend CBD Honey offers a dose of CBD that is comparable with many other edibles on the market. Depending on which product you choose, you can get 14 mg or 28 mg of CBD per teaspoon. This is in the mid to high range of the CBD potency spectrum.
Price/Value
CBD honey is one of the more versatile forms of CBD edibles. It can be added to your morning tea or coffee as a sweetener, spread on your toast, used in cooking, or even put on your skin. Bee Delightful claims that its Canna Bees Rescue Blend CBD Honey is antibacterial and anti-fungal, a good source of antioxidants, an anti-inflammatory, an effective digestive aid, and a sore throat remedy.