Got my orders and can't wait to use them.
Altus is cool and customer service is amazing
Similar Brands
Altus is headquartered in Oklahoma, USA. It is a company that cultivates cannabis and creates a wide range of products for daily and casual use, and for therapeutic benefits. Altus offers special personalized strain choices based on customers' preferences. "Altus" is a Latin word that means "noble, high, and profound" because the brand's relationship with cannabis is deeply profound and highly personal. At Altus, users have access to a wide range of cannabis products. The brand sells sweet cannabis-infused gummies, skin gels, tablets, flowers (LED grown and hand trimmed​), and selections that help users cope with emotions and feelings. The tablets are vegan, dairy-, sugar-, and gluten-free, while the gummies are not vegan since they contain gelatin. Altus cultivates cannabis strains under special conditions with complete care and timely attention. The ingredients used in the preparations are carefully selected. The manufacturer uses 100% solvent-free strain-specific distillate in all products. It sells flowers in special glass jars to protect them from humidity excess sunlight, heat, and external impurities, and maintain quality.
Yummy mango flavor! The taste is spot on and the prices are very reasonable
User Reviews
shall order again!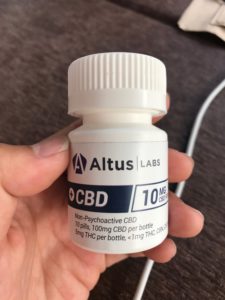 Tips for taking CBD Edibles
Finding the right CBD edible is all about needs and preferences. It is up to the users to decide how quickly they would want the effects of their edibles to manifest. For example, CBD taken in an edible form can take longer to kick in because it depends on the kind of food and your digestion, but its effects are quicker when it is taken as a pill. It is up to you as well to determine whether you want something with fewer calories and sugary such as cookies and gummies. Another thing to consider when shopping for CBD is that the dosages of some edibles are higher than others. First, find out about whatever ailment you are trying to alleviate before picking your edibles. Some edibles or dosages work better for anxiety than others, while others are ideal for chronic issues and muscular pain. CBD lotions, Salve, and Cream are other options for taking CBD. You can apply Salve and Cream on a swollen or injured body part for alleviating pain. Though this is an alternative to utilizing CBD in edibles, capsules, and vaping, it still bears fruits when applied as stipulated. It is an option that users can use daily to alleviate chronic pain and handle stretch marks that are ailing them. Researching the available CBD products and which works the best for you can enable you to make the right decision for whatever CBD product or edible you would want to use.
CBD Oil For Dogs
Share this:
How to Choose the Right CBD Product or Edible?
How CBD Edibles Work
THC edibles differ from CBD edibles in a few ways. First, CBD edibles are legal according to federal law. However, CBD edibles may sometimes contain low traces of THC, but it should not exceed 0.3 percent, which is the required threshold. Contrary, THC is known for its high effect, which people often associate with cannabis sativa, a plant species under the family of cannabis plants. Another plant species under this family is hemp. CBD doesn't induce the body and high mind-altering effects that are associated with THC. Instead, CBD extracts are obtained from the hemp herb, which is legal in many states. You can either vape, take orally, or put CBD topically. The exciting thing is that CBD doesn't come with the psychotropic effect that THC is known for. The impact of THC on the mind and body are quite different, and state and federal law prohibits growing in many places. Though a few countries have already legalized the THC aspect for recreational purposes, many states are still yet to approve it.
Brain on Fire: Our Sanity is Not Guaranteed
Vape pens have become popular than ever, but their long-term implication is still yet to be determined. Thinning agents such as polyethylene and propylene glycol are also present in many vape pens. Research suggests that heating these thinning agents to temperatures above 224℃ can produce toxic carcinogens. Vape pens that don't contain these thinning agents are available, but CBD edibles are an excellent option to avoid poisonous compounds.
December 27, 2017